They're a little bit country, a little bit bluegrass and a whole lot of funky, and together, Joe Mailander and Justin Lansing are The Okee Dokee Brothers whose latest cd is set to be released tomorrow.  Take It Outside showcases the duo's fun and quirky sound, which gives a nod to down-home goodness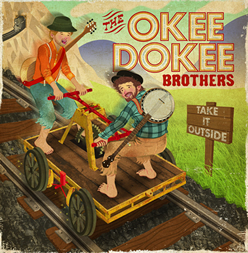 and smart lyrics that teach helpful lessons.
I gave a quick listen to the duo's new cd, and it reminded me of my husband's favorite kind of music, not to mention some of my southern childhood and watching a lot of Hee Haw!  I love the sweet harmony and catchiness of Water Balloon; and Auctioneer is an energetic tune that got the kid on his feet.  And quite honestly, I think more kid's music should involve the awesomeness that is the banjo.
You can see Okee Dokee Brothers at any of their shows in Minnesota this summer, at Every Family Rocks in Des Moines in September and at Austin Kiddie Limits in October.