One of the best aspects of staying with our family* for the past few weeks is that we've been able to hang out with my husband and kid's cousins.  Since I don't have a daughter, these two adorable little girls have helped me better grasp the latest in cool girl play things.
I typically cover girls' products, trying my best to go beyond princesses and dolls.  Ultimately, many girls love princesses and other girly-ish toys, but other that, what else is there?   Two words: cupcakes and pets.
I was introduced to Petcakes, a new collectible plush toy, at the Time to Play Spring and Summer Showcase.  Well Made Toys, the brains behind these plush toys, had the foresight to combine two things that many girls crave:  lovable pets and the ongoing trend of cupcakes.
The pets have silly hats that look like frosting and are in a cupcake holder.  At first sight, they look like plush cupcakes, but after a closer look, they're cute little pets, too.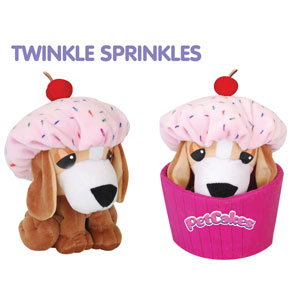 Wouldn't these PetCakes make ideal birthday gifts for the party circuit?
The first series includes four "flavors:" Twinkle Sprinkles, Coco-Coconut, Blueberry Buddy and Randy Candy.  PetCakes retail around $12 and are still very new, so I don't have any information yet on where to find them.  I will be sure to update as I get more information.
I received a product sample to facilitate this review, but as always, all opinions on NKT are my own.
*By the way, our family deserves a world of thanks for not only putting up with us, but for giving us a place to stay so that our family can stay together while we wait to close on our house.  Much love to our super supportive family members, including my newest assistant product reviewers.