I hope everyone had a great holiday weekend!  Our family celebrated our country's independence, perhaps, just like most of you: with tons of fun in the sun, fireworks and good times with friends and family.
I know much of the east coast right now is enduring really steamy weather and with this weekend's festivities in mind, I thought it'd be a good time as any to share some thoughts about sunscreen. 
Since becoming a parent, I've learned so much that I didn't already know about sunscreen, particularly how it expires, some of those pricey brands are nothing but bottles of toxic lotion and how so many different kinds just are not suitable for the kids.
Earlier this year, the Enivornmental Working Group, released the fourth annual list of their best rated sunscreens.  The nonprofit research organization that says they aim to use information to protect human health and the environment, say their top-rated sunscreens all contain the minerals zinc or titanium. EWG says these types of sunscreen are best for people who are looking for UVA protection without any chemicals considered to be a potential hormone disruptor, and for like-minded parents, these details are pertinenent when selecting sunscreens that work best for our family.  Not-so-surprising observation here:  not a single spray sunblock makes their list
It's important point out this staggering statistic: 
EWG researchers recommend only 39, or 8 percent, of 500 beach and sport sunscreens on the market this season.
As a full disclosure here, I'm sure I mentioned before that my husband works in the health and beauty sector as a warehouse planner for a big box store, thus I get to try out many great brands (and not so great ones, t00).  When summertime rolls around, I'm always on the lookout for the samples of the "better" sunblock, meaning those brands that aren't laden with chemicals that I don't want to slather over the kid's super-sensitive skin.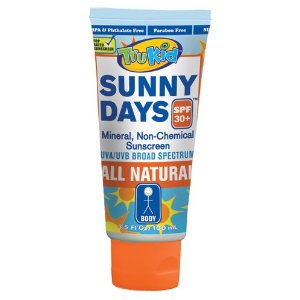 EWG's list this year included many of those brands that I considered tried and true, particularly my two favorite brands for the kid:  Blue Lizard and TRUKids.  Both brands were samples that I came across from husband's work and haven't strayed since.  They're staples in my beach bag and I'm super happy to see them on the EWG top-rated sunscreen list.
Last year, in fact, I reviewed TRUKid's Sunny Days, which received a 1 overall score from EWG's rating system.
Just as I started this blog, TruKid was one of the first companies to reach out to me after a mention on my Toxic Tub post. Yeah, they're that awesome. I've spoken highly of the Happy Face and Body Lotion in the past, (seriously, can't get enough of that fun apple scent and I love the smell of my clean boy). I wanted to share a review about TruKid's Sunny Days, which comes in a fabulous sunscreen lotion and super-convenient face and body stick.

The Sunny Days sunscreen lotion comes out thick and creamy, yet not greasy or oily. Because of its creamier consistency, with just 2 dollops, the boy is good to go. I've used much watery sunscreens in the past, and I feel like all I do is squirt, squirt and apply.

The facestick is definitely a favorite for us. We have it tucked away in our diaper bag, stroller pocket and even our beach/playground bag. About twice the size of a tube of chapstick, the facestick, is easy to apply with just a few swipes. It, too, isn't too thick, but light enough to apply and smooth on with one or two swipes. Because the kid thinks the facestick is actual chapstick, I tend to wipe some on my fingers to avoid unnecessary sunscreen-licking.
I hope everyone is having a safe and fun summer so far!  If you haven't already, be sure to take a look at EWG's list of best-rated sunscreen to see if your lotions make the mark. 
I'll be sure to share my thoughts about Blue Lizard soon; this one is a family favorite.  It's awesome for the kid, mom, dad and the grandparents, too!