Last weekend, I had a fun mini-party that I billed an NKT playdate.  It was a super small gathering of some of my friends from back home, some of whom I hadn't seen since we embarked on our own crazy adventures of parenthood.
At the playdate, I showcased a number of toys and product samples that I've received, but haven't had the chance to write about on NKT.  It was a great way of getting the products into my friends' hands, and getting a different perspective while sharing some cool kid finds.  I'll be sure to write a more thorough post on what I shared and what some of them had to say.  Since it was my birthday earlier this week, naturally, I still have cake on the brain!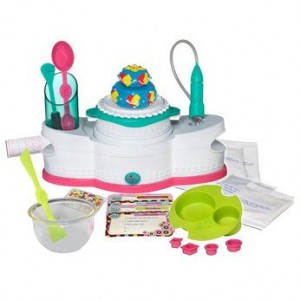 One of the cool activity sets I featured was the Girl Gourmet Cake Bakery from Jakks Pacific, which came out last fall.  The Cake Bakery is one of those fun activity sets that's quite timely in relation to the ongoing cake craze.  With the rise in popularity of cakes from hit shows like our neighborhood favorite, Carlo's Bakery of The Cake Boss fame to the ever-inspiring Ace of Cakes, cake-making and decorating has never been so sweet.
This set allows kids to create cakes with a little help from Duff of Charm City Cakes, the bakery which is chronicled on the Food Network's Ace of Cakes.  With the Girl Gourmet Cake Bakery, kids can create a mini 2-tiered fondant cakes. Kids just add water to one of the cake flavors, stir and pour into the cake molds, and then place into the container and microwave for 30 seconds. To create one of the fondant mixes, water is added and then can be rolled out onto the non-stick mat. The cakes are then removed from the mold after they cool, which are then ready to be covered with the fondant. The mini cakes can be placed on the decorating turntable and can be fancied up by using the air powered gel decorator gun.  Need more embellishments? Add the included candy garnishes!   How sweet it is!
Here's a little demo video from Jakks Pacific:
As a kid, admittedly, one of my favorite pastimes was definitely baking—or rather, making a huge mess in the kitchen while experimenting with baked creations.  I thought there was nothing cooler than baking a tiered cake for a family member's birthday, even if said tiers were a little, um, 'off.'  Nevertheless, I love seeing little kids taking an interest in being in the kitchen!  Realistically, I know most food activity sets involve mess, but this one didn't seem that bad.
Cooking and baking is great outlet for creativity; and Girl Gourmet Cake Bakery is great activity set for those budding bakers and decorators in search of an outlet.
The Girl Gourmet Cake Bakery is recommended for kids 8 and older and retails for $34.99.  Shopping tip:  I recently saw these sets on sale at AC Moore.