One of our favorite Disney shows, Chuggington, unveiled another new episode this past weekend.  I hope you guys were able to catch it.
I've got a bunch of Chuggington news planned in the coming weeks…and actually, I was planning a fun viewing party with a few of our fellow Chuggington friends for last week, but had to reschedule.  I'll be sure to share our soiree once our family is moved and we can get together with our Chuggington pals.
In the meantime, I thought I'd share about some other Chuggington news.  Did you know as of May 17, you can now pre-order Chuggington Toys?  The toys, already available in the U.K. and other locations, are making their way stateside.
The actual trains are die-cast and it looks like Wilson, Koko, Brewster and the rest of the gang feature some high quality detail.  But what's most impressive of the toy lineup are the toysets.  The Traintastic set is comprised of practically every element the kids need to re-create Chuggington at home.  The Fill Wilson pack features a Wilson carrying case–complete with handle and wheels—AND 17 die-cast trains.  Want a little less Chuggington to get chugging?  Check out the Launch and Go pack and the Trainee Pack.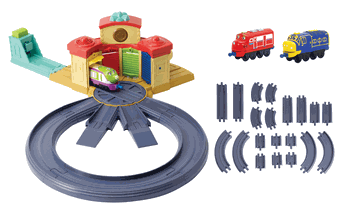 These guys aren't in stores until later this month, but be sure to check out the Chuggington Store to pre-order.  Stay tuned for more of the inside scoop on the latest Chuggington news.