VTech has introduced  a new handheld learning system to its lineup of electronic learning toys.  I had the chance to get a glimpse of the MobiGo at Toy Fair, but got an even closer look at the unit this week before it officially hits the shelves.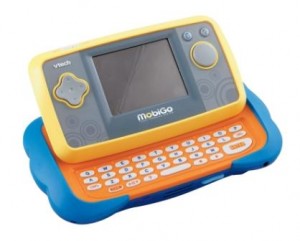 The MobiGo is packed with features, including touch screen technology, sliding screen and is web-enabled via USB.
The MobiGo retails for $59.99, which is comparable to other handheld systems in this category.  In addition to the touch screen technology that mimics that of mom and dad's iPhones and smartphones, what sets the MobiGo apart is its flip-up screen.  That feature made quite a few heads turn when we were toting the MobiGo around this week.
The MobiGo has a variety of game cartridges (19.99) and a carrying case (14.99).  The system is available in the blue/yellow or a pink/purple option.
Check out what I had to say about the MobiGo:
One detail that I forgot to mention in the video is the battery usage.  The MobiGo uses 4 AA batteries, and so far, after less than a week, our batteries seem to be holding up well.  As with any toy that uses batteries, I always recommend rechargeable batteries.
The Vtech MobiGo will hit the shelves at several stores in August, but is available at TRU.com now and will be available at Toys 'R' Us exclusively, starting on June 7.
Giveaway
VTech has offered to give one NKT reader a MobiGo right as they hit shelves.
Want to win one for the kids?
Please comment below and tell me one of the reasons why I think the MobiGo is unique. (hint: watch the video)
Want extra entries?
Become a fan of Vtech Kids and comment on their wall to tell them The Next Kid Thing sent you.
Follow Vtech on Twitter
Tweet about this giveaway and be sure to include @jenrab
Become a fan of NKT and comment on the giveaway associated with this post.
Refer friends to NKT!  Get +5 entries for each new fans and/or email followers you refer.  Comment with names/handles.
Subscribe to receive NKT email updates.
Please comment below for each entry.
This giveaway will end on June 18 at midnight.  All winners are chosen via random.org and will be notified by email and on the NKT Fanpage.