The month of June typically celebrates summer, dad, grads and the end of the school year.  This past weekend, our family celebrated dad and our very own grad.  Our niece graduated from high school, which undoubtedly closed one chapter and initiated another.
As a writer, specifically one who spends a lot of time focused on children's products, I knew I wanted to gift our niece with a book.  But which one?  As much as I love Dr. Seuss and the ubiquitous Oh the Place You'll Go, I knew I wanted to get something a little different.  Thank goodness for this idea I saw on Twitter!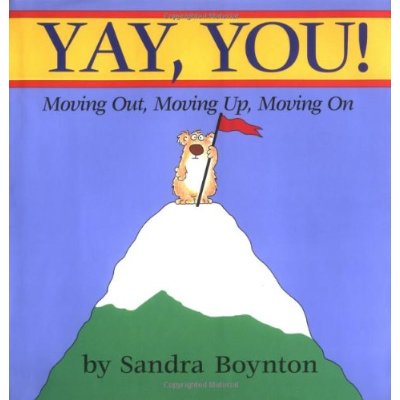 One of my friends on Twitter tweeted about a perfect book and gift idea for grads.  When her son graduated, the famed children's author, illustrator and definitely one of our kid's all time faves, Sandra Boynton penned a coming of age book called "Yay, You: Moving Out, Moving Up, Moving On."  The book embraces the possibilities and the upward trajectory of a new journey, is a perfect gift idea for graduates, or anyone embarking on a new chapter in their life.
Like our favorite children's board books, "Yay, You: Moving Out, Moving Up, and Moving On" features Boyton's clever rhymes and quirky illustrations.  As someone who set out on my own in my mid-twenties and left everything familiar behind, myfavorite line has to be, "Whatever you do, now or later, big or small, loud or quiet—whatever you do, don't worry.  Just try it."
Sandra Boynton does it again with "Yay, You: Moving Out, Moving Up, and Moving On."  If you're on the market for a wise and memorable book for a graduate, be sure to check out this Boynton classic.