Power chords, melodic keyboard solos and colorful lyrics, that's what Starfish sounds like.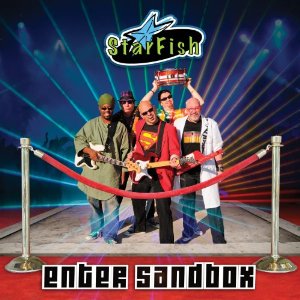 With influences from timeless bands, the second cd from popular kid rockers, Starfish, Enter Sandbox is a melodic juxtaposition of upbeat, fun tunes for kids.  Enter Sandbox aces the kid rock genre with songs that kids can sing along to, and with distinct nods to quintessential rock Gods like the Ramones, Rush and more, parents will willingly rock out as well.
My Name is No, the second track of the 12-song cd, made me nostalgic for my high school and college mix tapes and cd collection.  The guitar and bass, though a funk-filled style of their own, were reminiscent of some of my favorite songs from Rush and Primus, but with lyrics that two-year old can totally appreciate.
Track five, Today's a Sick Day, was like another throwback to my college days with rhythmic shout outs to 311 and O.A.R.  The keyboard and syncopated beats had a fun and whimsical feel, similar to those that could be found in my playlist way back when and even today.  For those who have had those pre-planned "sick" days, Today's a Sick Day hits a familiar chord that most parents and kids can relate.
In addition to their recent cd release, the band has a song featured on the new Putumayo Kids "Rock and Roll Playground" CD, which highlights some of the best kindie rockers
Enter Sandman, which features clever lyrics, memorable melodies and impressive guitar licks, is best geared to families who know how to rock.  This talented band of musicians, who hail from our home state of NJ, have put together a great collection of songs that kids and family members of all ages can embrace.  Whether or not fist pumping is your thing, Starfish's Enter Sandman further solidifies their role as bona fide kindie rockers.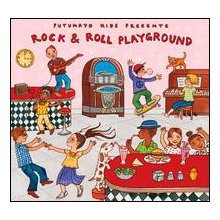 We're missing our home in NJ at the moment, so this music review couldn't come at a more appropriate time.  I'm quite selective as to which kiddie cds I add to my playlist, but without hesitation, Enter Sandman's sweet sounds made the mark.
Check it
Enter Sandman is available at Amazon.com, select music retailers and can also be found on their site.  Starfish is touring this summer, so be sure to check them out live.  Based on their recent sold out CD release concerts, this group is sure to be a hot ticket this summer.
In the NYC area?  Starfish will be at the Scholastic auditorium in Soho as part of the Putumayo Rock & Roll Playground tour.  Tickets are free, but you must RSVP in advance.