Some of the fondest memories from my childhood include the years that I was enrolled in dance class.  I loved ballet and jazz so much that I took my training and lessons with me beyond high school and even danced for several years in college.  And because it's the end of the school year, it also means that it's recital season for many little girls (and some boys, too).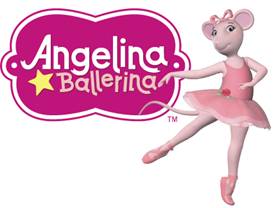 With recital season in full swing, coupled with my love for dance, one show that comes to mind for Music Monday is, Angelina Ballerina: The Next Steps, which airs on PBS Kids.  The show is based on the award-winning children's book series by author Katharine Holabird and illustrator Helen Craigre.  Angelina Ballerina: The Next Steps debuted this past September in full CG animation, incorporating elements of choreography from top dance organizations from American Ballet Theatre to Alvin Ailey.
Angelina celebrates music and embraces a passion for dance, including ballet, modern, tap, jazz, classical and ethnic. As an 8-year-old ballerina, her life revolves around dancing and performance, family, friendship and following her dreams, which is a mantra that I'm sure many little girls share.
I love when classic book characters are brought to life, especially when it incorporates the core of fine arts while leveraging interactivity on the web, too!  Angelina's site is a really great complement to both the book and the show.
Are your kids a fan of Angelina Ballerina?
Check it
Head to Angelina Ballerina's fun website to check out the music player (I'm a fan of the Rock Band song), the dance studio and even the Angelina app.
Giveaway
Want to win the a copy of the Angelina Ballerina book by Katharine Holabird and two adorable 5t Angelina Ballerina t-shirt for girls?  Just tell me something you love about Angelina Ballerina: The Next Steps.  Please comment below.
For extra entries:
Become a fan of Angelina Ballerina on Facebook and tell them The Next Kid Thing sent you!
Tweet about this giveaway and be sure to @jenrab
Share about this giveaway on any social networking site.
Tell me your favorite dance move! (each move counts as an entry) There are some great ideas in the Dance Studio.
For all additional entries, please comment below.
This giveaway will end June 14.  All winners are chosen via Random.org, and are notified via email and the NKT Fan Page.