Happy Star Wars day, everyone!  May the 4th be with you!
As a nudge to the iconic phrase from Star Wars, "May the force be with you," May 4th is dubbed Star Wars Day.  While many hardcore fans are celebrating with Princess Leia cupcakes and Hot Dog Lightsabers, I thought I'd share just a few of the latest Star Wars goodies, starting with some of Hasbro's upcoming toy launches.
While at Toy Fair, I had the chance to tour the Hasbro showroom, which—you guessed it—showcased quite a few Star Wars Toys.  Of many of the new Star Wars toys that I spotted, it was evident that Hasbro embraced the popularity of The Clone Wars Series.
This year, Hasbro also commemorates the 30th anniversary of Star Wars: Episode V The Empire Strikes Back by paying homage to classic toys, special packaging and promotions.  (30 years, people!  Whoa!)
Here are just a few of the many new and upcoming Star Wars-themed toys:
Star Wars General Grievous Lightsaber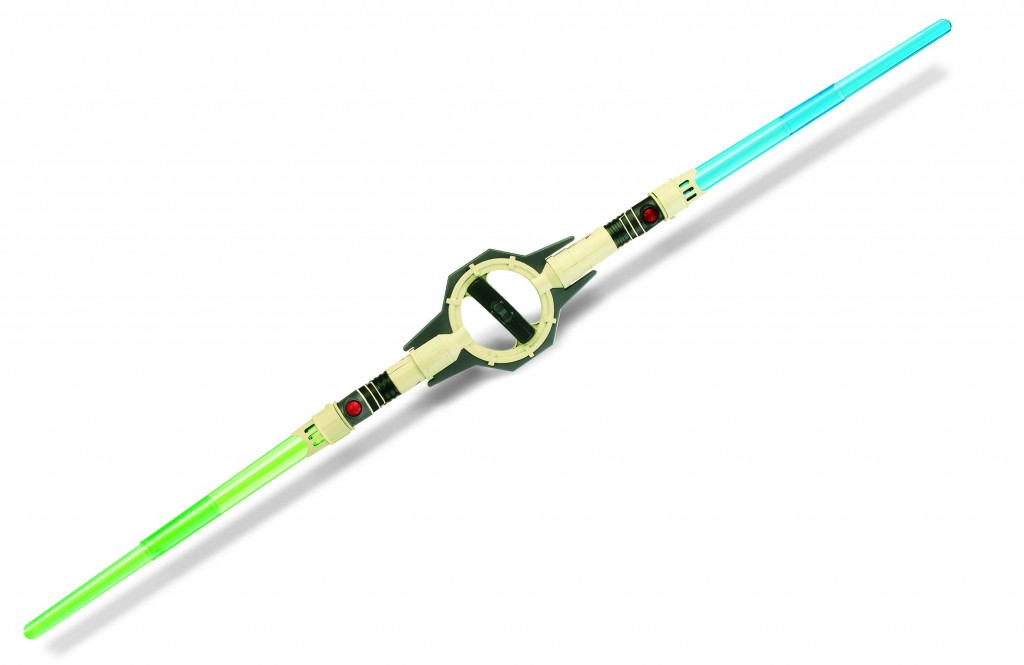 With the Star Wars General Grievous Lightsaber kids can battle just like the powerful cyborg. Jedis can hone their skills by spinning the two Lightsabers simultaneously in one hand or they can opt to take out the spinner and connect the two lightsabers for double-bladed lightsaber action, or use the two separately.  Both Lightsabers include electronic lights and battle sounds to complete the Star Wars effect.
($34.99; Ages: 6 & up; Available: August 1, 2010)
Star Wars AT-AT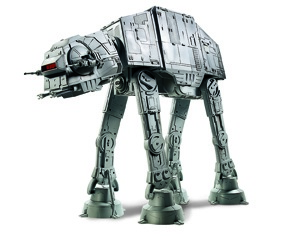 The AT-AT (All Terrain Armored Transport) played a significant role in the Empire's military assault in The Empire Strikes Back, and this new take will be a must-have for the biggest SW fans. The AT-AT  measures more than 24 inches tall, nearly 28 inches long, and 12 inches wide, and holds up to 20 Star Wars figures – 6 of which can fit in its head alone.  The AT-AT features LED lights and authentic movie sounds and phrases, ad includes a 3 ¾ inch AT-AT driver action figure and a pop-out speeder bike.
($99.99; Ages: 5 & up; Available: August 1, 2010)
Star Wars R/C Millennium Falcon
Hans Solo once bragged that the Millennium Falcon made the Kessel Run in less than 12 parsecs…and now this generation of SW fans can give it a go.  This guy was one of the most memorable SW toys I saw at Toy Fair.  It's composed of a light weight material and seemed easy to maneuver.  This is the first time the Millennium Falcon is available as an indoor flying remote control vehicle.  It measures 11 inches long and 8 inches wide, is easy to fly and includes a charging controller and vehicle battery for up to five minutes of flying time.
($49.99; Ages: 8 & up; Available: Fall 2010)
Galactic Heroes AT-AT Playset
Galactic Heroes, which is geared to the younger SW fans, will now have its own AT-AT Playset to celebrate The Empire Strikes Back 30th anniversary.  This set features electronic lights and sounds, poseable legs, a speeder bike and AT-AT Driver figure.  I'm a fan of the chunkier characters in the Galactic Heroes lineup.
($39.99; Ages: 3 & up; Available: August 1, 2010)