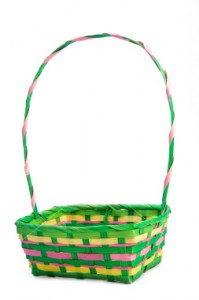 Easter is upon us, which means it's that fun time of year when the Easter Bunny fills the kids' baskets with loads of goodies.
Easter is second to Halloween as the most important candy-eating occasion of the year. A 2009 Nielsen survey reported that consumers were expected to buy more than 120 million pounds of candy in the week leading up to Easter.
That's a lot of candy!
With Jamie Oliver's Food Revolution creating waves, in addition to Mrs. Obama's Let's Move campaign, healthier eating for kids is a topic that's important to me and my loved ones, as I'm sure it is to all of you.  Like many others, I'm learning so much from this new revolution that I'm happily campaigning by sharing here on NKT, on Twitter and to whomever will listen.
LSU AgCenter nutritionist Beth Reames suggests: "For Easter this year, think beyond the usual sweet treats."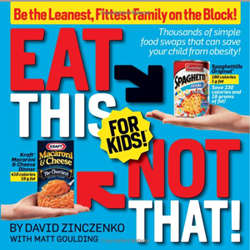 For kids, sometimes a new and interesting "treat" is just as good, or maybe even better than the usual sweet treats.  My agenda this year for filling the Easter basket is to go beyond the candy aisle.  Believe me, I love candy, especially Easter candy a little too much, which is EXACTLY why it's important to me to put more thought into treats for the kid.  There are more sweet treats than Cadbury Creme Eggs and Solid Chocolate Bunnies!
So, with Easter this weekend, with the help of one of my favorite resources Eat This, Not That For Kids, I came up with some alternatives to the pounds and pounds of chocolate bunnies.  Here are some alternatives to the usual candy treats to fill those Easter Baskets.
Annie's Homegrown Fruit Snacks
The Bunny Fruit Snacks are, hands down, the kid's new favorite treats.  We recently tried the Tropical flavor, and they were such a hit that I'm excited to pick up the Sunny Citrus the next time we go to Target.  Annie's Fruit Snacks are organic, less than 100 calories per pack and contain natural and organic ingredients.  The fact that they're bunny-shaped (like many other Annie's products) makes this snack perfectly suited for Easter.  Want to see how Annie's Fruit Snacks stacked up to other fruit snacks?  Check out Fit Sugar's post comparing the two.
Newman-O's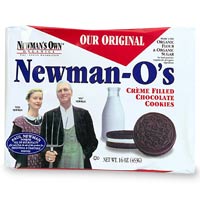 Newman-O's, as suggested by Eat This, Not That, is a great alternative to traditional cookies that you'd find on the cookie aisle.  These cookies are made with organic ingredients, including organic cacao, and Organic palm fruit oil is used.  Newman's Own Organics emphasizes the significance of organic palm fruit oil: it's not hydrogenated; contains no trans-fatty acids; it's lower in saturated fat than butter and has no cholesterol; and is used in Europe as an alternative to partially hydrogenated oils.  
I have yet to try these myself, but after researching these for this post, I'm heading to our organic store to pick up some chocolate creme filled cookies.  For those of you who need to avoid wheat or dairy, they have cookies for you too!
Clif Kid Z Bar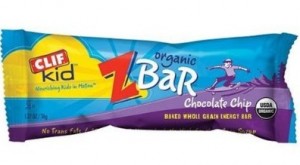 Clif products are absolute favorites in our house, so naturally, we're a fan of the Clif Kid products as well.  With only 120 calories, 3 g of fat, 12 sugars and 3 grams of fiber, ETNT recommends the Clif Kid Organic Chocolate Brownie Z Bar as one of the more favorable granola bars.  There's no preservatives, no HFCS, no artificial preservatives and it contains organic ingredients.  In addition to yummy flavors like Spooky S'mores, Chocolate Brownie, Honey Graham, Clif Kid Z Bars come individually packaged, which gives them that candy bar appearance.  And after taking a look at the ingredient list, I'm sure you wouldn't hesitate giving these out as treats.
FruitaBu Organic Smooshed Fruit Rolls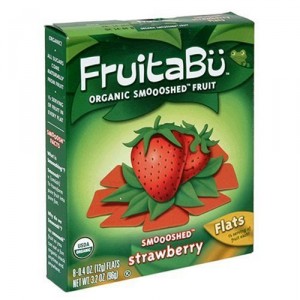 Remember Fruit Roll-Ups?  Well, FruitaBu Smooshed Fruit Rolls are organic, more natural alternatives to that rolled up fruit from our childhood.  FruitaBu boasts that sugars come naturally from fruit and each roll contains one fruit.  At just 80 calories in one roll, parents will enjoy these sweet and sticky treats, just as much as the kids.  Just be sure to have some wipes onhand!
Rice Krisipies Treats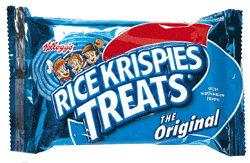 Ah, Rice Krispy Treats are an age-old classic that everyone enjoys.  These guys also come prepackaged, giving them that convenience factor, as well as fun candy bar appeal.  Most regular sized Rice Krispies Treats are at 90 calories, and according to ETNT, Rice Krispies Treats are the "least dangerous" of the sugary snack bars.
There are so many fun alternatives to the traditional Easter candy, and these are just a few of the many sweet alternatives that are out there!  What about you guys, what treats do your kids love?
Up next, more Easter Basket filler ideas!