A few weeks ago, I doted on the cuteness of the teeny tiny trend at Toy Fair, but I left out one tiny toy in specific, simply because I think it deserves its own post.  Zibits might be small in size, but they're big enough to warrant their own post for being so cute.
At just 2-inches, Zibits from Senario, the new remote controlled miniature robots, might be small in size, but are big on fun.
Check out the size of this Zibit in comparison to the Blackberry:
I had the chance to meet with Mike Nakamura, the founder and CEO Senario to learn more about Zibits firsthand.  After talking to Mike, I learned that there's already been a lot interest in Zibits from kids (and adults) of all ages.
With its small remote control, Zibits can maneuver in several directions, including a full 360 degree rotation. The mini robots—12 in all—light up and make robotic sounds.  Zibits, recommended for 8 years and up, require AA batteries in its small remote.
Check out the quirky promo:
The small size, once again, makes Zibits a fun, compact toy that's convenient to stash in backpacks, bring along on road trips,  occupy kids during down times or race and battle on your desk when the kids give you a chance to play. The accessibility and affordability of Zibits make these mini robots great gifts and a fun collectible.
Zibits weren't the most high-tech gadgets I saw at Toy Fair, but at just $10, they were certainly memorable. The characters are cool and the size makes me want all of them for myself.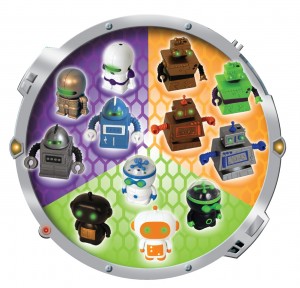 Zibits officially hit the shelves today, and they're also available online at Toys R Us, Etoys and Bot a Bing Bot a Boom.  Well, they were available, but it looks like they're selling out!
But friends, of course, we have to do a giveaway.  Senario has offered to give away three Zibits, to be exact.
To win just tell me one detail that you'd tell a friend about Zibits.
For extra entries, share about this giveaway on any social networking site,sign up for NKT emails below, become a fan of NKT on Facebook and/or follow Zibits on Twitter.  Please comment below for each entry.
There were, or shall I say, ARE so many toys to share about, that it's taken me weeks to digest all the information I received.  And Zibits are certainly included in my long "to write about" list, so these guys are just the beginning of more roundups and reviews!  There's more to come…giveaways included (hint, hint).