On the heels of a successful live tour, Yo Gabba Gabba season three premieres today, March 8 at 10:30 on Nickelodeon.  In Yo Gabba Gabba fashion, premiere week will feature a host of familiar faces such as Sarah Silverman, Weird Al Yankovic, Black Kids, Jack McBrayer, Paul Scheer, Weezer, Anthony Bourdain, Of Montreal, Mos Def, Devo, The Aquabats, Mark Mothersbaugh and Biz Markie.  Famous dad, Travis Barker of Blink 182 fame will rock out a special remix for the premiere today.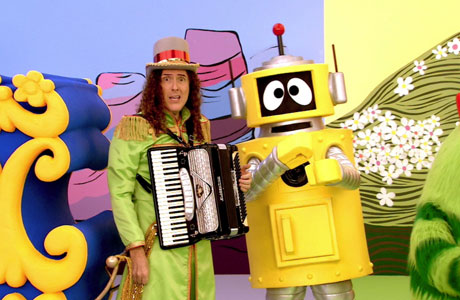 Beyond premiere week, more guest stars are expected to pop into Gabba Land including, Erykah Badu, Rob Dyrdek, The Killers,  Mix Master Mike, Angela Kinsey, among others.
In the barrage of celebrities deeming YGG a cool show, in reality, many of us already now just how cool Muno, Foofa, Toodee, Broobee, Plex and DJ Lance are…
I spotted Brooke Shields and Chris Noth at the Yo Gabba Gabba Live show earlier this year!  In fact, the YGG gang is gracing the pages of one of my favorite magazines, Entertainment Weekly, solidifying what we already know: Hollywood Goes Gaga over TV's Hippiest Kids' Show.
It is the coolest kids' show on TV, a growing phenomenon that's a hit with both preschoolers and their indie-rock-loving parents. It's very much a children's program, of course but the guests and pop culture references make it particularly grown-up (and celeb) friendly. Jack Black, Andy Samberg, Elijah Wood, and30 Rock's Jack McBrayer have appeared on episodes, while Christina Aguilera, Jason Bateman and Dennis Quaid have been spotted at Yo Gabba Gabba live events, Brad Pitt even dressed up as its host, DJ Lance Rock, for Halloween last year. Then there's the music. Over the first two seasons, Indie-rock stars like the Shins, MGMT, and the Ting Tings stopped by to perform, and season 3 will bring tunes from the Flaming Lips, the Killers, and Weezer. "The Music Yo Gabba Gabba! offers is like no other kids' show," says Aguilera. "It's nice to have something my son, Max, enjoys that's also fun for me."

S

hould you ever find yourself shooting an episode of Yo Gabba Gabba!, be sure to bring lots of water. The show's cavernous Downey, Calif., set has no air-conditioning, and workdays are often long and steamy. "It's pretty hot and intense," says Scott Schultz one of the creators of the show. "They tell me it's too expensive to air-condition, but how do you tell that to [season 2 guest] Jack Black when literally between takes we'd have to stop and blow-dry the sweat off?"

T

here will be a Yo Gabba Gabba! movie, which could be out as soon as next year. Director Jason Reitman is reportedly involved in some capacity, althoughChristian Jacobs (co-creator) won't offer anything more than a wink and a nudge on that front. "We're working with some cool people on the script," he says. "Everything else is just 'up in the air,' so to speak." (Feature, Page 48)
Check out some sneak peek clips: Weird Al and Weezer on YGG!
And btw, did someone say Yo Gabba Gabba movie??