Jazz will endure just as long people hear it through their feet instead of their brains, said John Philip Sousa, the musician who put marching band on the map.
…if only he could see and hear all the tiny little feet tapping and dancing to the rich, vibrant beats at the Putumayo Kids Jazz Playground Concert last Saturday.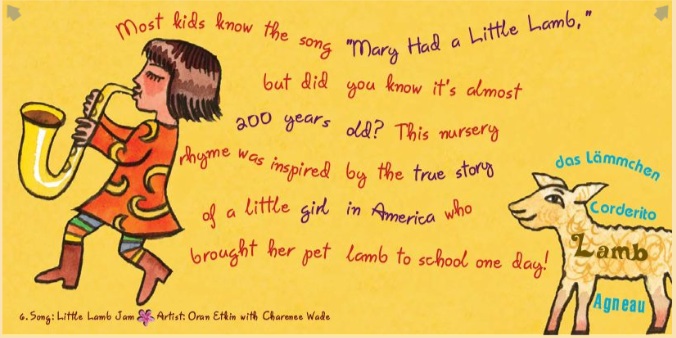 Held at the Soho Scholastic Store's auditorium, last Saturday's concert was part of the promotion for the Putumayo Kid's Jazz Playground recent release, and one of the five stops of the concert tour.  The Soho Scholastic Store, flanked by some of the most fabulous shops and boutiques in downtown Manhattan, houses a spacious auditorium, which, to me, is a hidden gem for kids since we've never been.  We already love the Scholastic Store, but I thought that auditorium was such a cool space; I hope we can get to more free events there.
Our family braved the monsoon-like conditions the day of the concert to hear Oran Etkin, a talented, New York-based clarinetist, and his band bring to life some soulful and playful jazzy tunes. Etkin and the band told stories with music and words, to the standing room-only auditorium full of families with kids of all ages.  Kids danced, sang and played their imaginary instruments, as their parents—including us—tapped our toes in unison.  Etkin is set to release a kid's cd called CD, Wake Up Clarinet! this Spring; his single, "Little Lamb Jam," is featured on the Jazz Playground cd. (info. below on how to download this song for free!)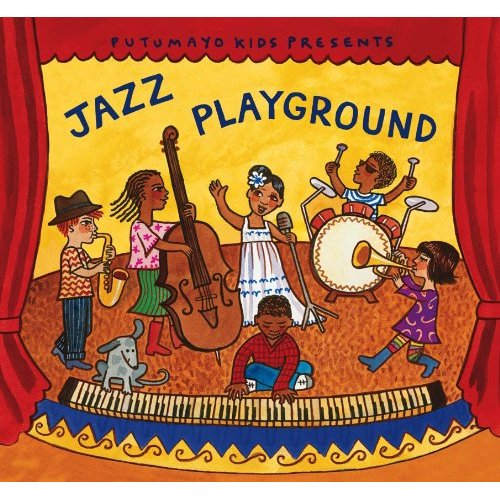 The concert was an hour of musical engagement and for many of the young ones, a primer to jazz music.  It was a harmony of improvisation, vocals, rhythm, woodwinds, percussion, brass and the keyboard/piano for the littlest music enthusiasts, and some, who apparently already knew a few of the stories and songs that Etkin was playing for the crowd.  Etkin, one of the artists featured on the Jazz Playground CD, provided a great glimpse of what families could expect to hear on Putumayo Kid's latest installment.  The Jazz Playground concert is a free, fantastic way for kids to enjoy the sounds of the tuba, clarinet, saxophone and more, while enjoying a variety of jazzy tunes.
Like Putumayo's other CD, Jazz Playground is described as multicultural and diverse collection of how jazz is interpreted by artists around the world.  This isn't the first time I've featured Putumayo Kids on NKT and it probably won't be the last.  I'm such a fan of how Putumayo Kids is able to produce culturally rich albums for kids, while still appealing to the masses.  As a multi-cultural family and a mom who is very conscientious about diversity, I appreciate Putumayo's worldliness.  In addition to their enjoyable range of cds, the Putumayo Kids Jazz Playground concert series is able to connect the dots for the little ones whose musical curiosity often flourishes to enthusiasm.  And sometimes, it all begins with a simple toe tap.
A big thank you to the Scholastic Store, Putumayo Kids and the musician for the fun, free event.  I hope there will be more!  It looks like there's one more concert in Amherst, MA this weekend.  If you're in the area, I highly recommend going!
Check it!
Want sample the Jazz Playground cd and download a free song?  Check this out!
Interested in resources for teaching kids about jazz music, or perhaps, learning more about it yourself?  Check out these great sites:
Scholastic's teaching resource about jazz music
Want to connect?
Putumayo Kids on Twitter
Putumayo Kids on Facebook
Scholastic on Twitter
Scholastic on Facebook
Are you on Foursquare?  The Scholastic Store is one of the first kid-centric venues I've seen tap into the power of Foursquare!  For the month of March, if you check into the Soho store, it sounds like you can get a 20% discount on any purchase.  Way to go, Scholastic!