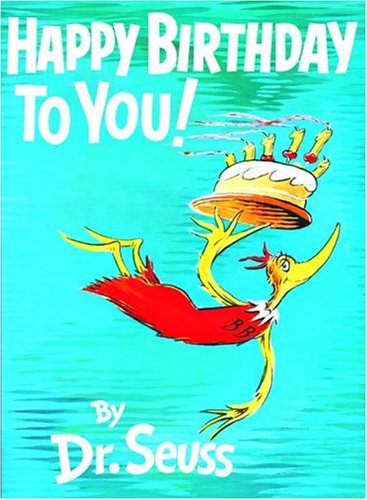 Born Theodor Seuss Geisel on March 2, 1904, the writer and illustrator better known as Dr. Seuss, produced classic children's books that have rhymed, reasoned and influenced many generations. (Including the Olympian I had the honor of interviewing! more on that later.)
With Dr. Seuss's birthday in mind, I thought I'd share some of my most recent Dr. Seuss finds:
What Was I Scared Of?
According to Wikipedia, Dr. Seuss published over 60 children's books, which were often characterized by imaginative characters, rhyme, and frequent use of trisyllabic meter. His most celebrated books include the bestselling Green Eggs and Ham, The Cat in the Hat, and One Fish Two Fish Red Fish Blue Fish.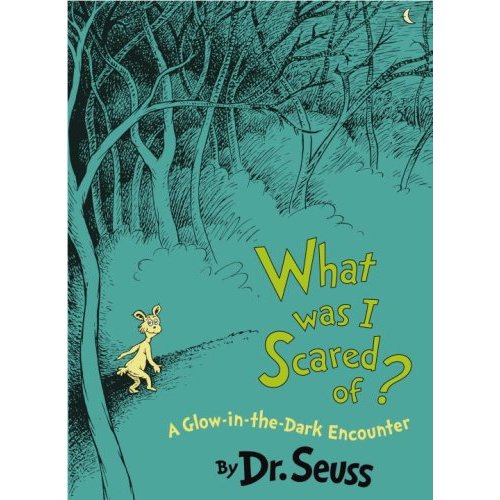 Of his many books that are still in circulation, one book recently received a glowing transformation.  The classic Dr. Seuss short story What Was I Scared Of? (from The Sneetches and Other Stories), added glow-in-the-dark ink.  The glow-in-the dark effect gives What Was I Scared Of a spooky and brighter dimension, not to mention, pleases throngs of "flashlight readers" who read under the covers, and well past their bedtime.
Read Across America Day
Not only is it Dr. Seuss's birthday today, but it's also Read Across America Day.  Read Across America Day is an annual reading motivation and awareness program that calls for every child in every community to celebrate reading on March 2, the birthday of Dr. Seuss. Classrooms of children are expected to celebrate with activities, events and reading aloud today; I wonder exactly how many kids will read Dr. Seuss aloud simultaneously?  All these kids reading at the same time sounds like fodder for a Seuss-like story!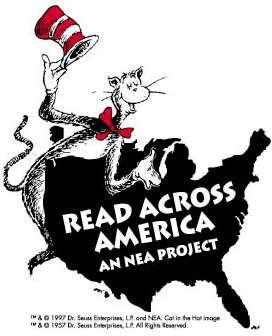 Maybe it's their quirky rhymes or perhaps it's the eclectic stories, but Dr. Seuss's books are perhaps some of the most timeless and entertaining books read aloud.  In fact, I've been to a few weddings where couples have incorporated Dr. Seuss's books into the ceremonies.
The Cat in the Hat and ABC eBooks
If you're a frequent reader of Wired's Geek Dad like I am, the news of two Dr. Seuss's classic books making their way onto iPods and iPhones is nothing new.  But in case you missed it, The Cat in the Hat and Dr. Seuss's ABC were made into eBooks.  Here's GeekDad's description: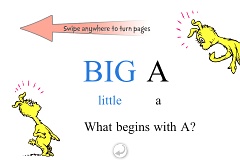 Oceanhouse Media took two titles, The Cat in the Hat (iTunes: $3.99)and Dr. Seuss's ABC (iTunes: $3.99) and made them into rich eBooks for the iPhone and iPod Touch. Each book has the option to read to your child or allow them to explore the book themselves. Turning pages is as easy as swiping the screen. The text is legible though somewhat small on the iPhone screen. However, they've taken care to arrange the text and the images in a way that maximizes the impact of both to make the best of the platform.
I've said it before, but I'll say it again, nothing will ever replace the allure of  reading an actual book; however, the ease of convenience of ebooks, especially ones made for on-the-go readability such as these, can't be beat.  Trying to make it through a trip to the grocery before the kidlets get impatient and bored can sometimes be a task, but having the access to a book that they know and love—ON YOUR PHONE—is worth its weight in gold, especially when you're trying to avert meltdowns. Seuss's ABCs is on my must-download list!
I Can Do That Dr. Seuss Games
In recent years, with the popularity of Seuss inspired movies and more, there have been a variety of licensed products popping up on the market.  In the midst of forgettable licensed products crowding the market, I Can Do it Games has managed to create a line up of award-winning and affordable games.  For the holidays, I highlighted a Richard Scarry game, but for Dr. Seuss's birthday, of course, I have to mention The Cat in the Hat I Can Do That Game, just one of the games they offer.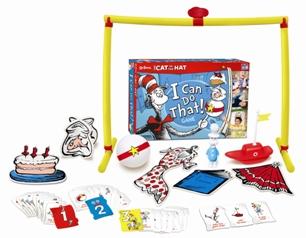 The I Can Do That Game incorporates, giggling, jumping and other silly moves. Players flip over cards to reveal challenges such as, can you jump up and down…while holding the fish…under your chin? Can you limbo under the trick-a-ma-stick…while balancing the boat…on your stomach? If you think you can, shout, "I Can Do That!" There are hundreds of hilarious possibilities. The player who earns the most stars wins.  This game is in the $20 pricepoint and can be found at retailers like Target and Amazon.
The Mystery of Winna-Bango Falls
And what's a celebration without a song?  Here's an old video with the Cats (in their hats) doing a dance and singing The Mystery of Winna-Bango Falls.
So, what's YOUR favorite Dr. Seuss book?  I have so many, but The Cat in the Hat and Oh, The Places You'll Go are pretty high up there!