Last month's Toy Fair showcased a countless number of really wonderful girl's toys.  There were aisles of glammed up dolls, dress up sets and sparkly things galore, but there were a few girl's toys that caught my attention.  Big Dream Toys' Go! Go! Sports Girls, an empowering line of 18″ dolls, is one of them.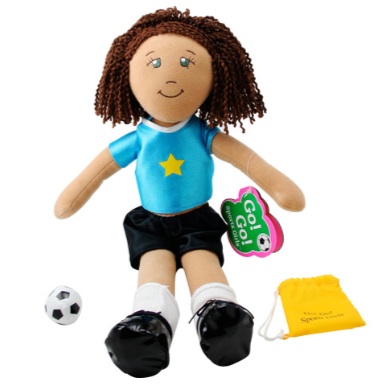 I was introduced to Go! Go! Sports Girls while I was talking to one of my blog friends who was also attending Toy Fair.  At the end of one of the days, we compared notes and talked about which booths we visited that left an impression that day.  One of them, she said, was Go Go Sports Girls, and held up this stuffed doll.
The doll, I noticed, didn't have a ruffly dress or make up.  Instead, she had a sporty get-up and a cute little backpack with a soccer ball inside.  I have to admit, with all the meetings I had that week, I never got around to checking out Dream Toy's booth, so I'm so glad they contacted me.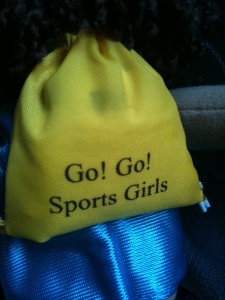 Along with their media kit, Dream Toys sent me a Cassie Doll for review.  Cassie, a soccer star and Go! Go! Sports Girls, is outfitted in a cute soccer uniform, complete with a backpack that holds a soccer ball.  Unlike a lot of dolls I saw at Toy Fair, Cassie and pals convey age-appropriate messages, and look and dress the part, too.  The dolls encourage positivity and staying healthy and active with sports.  Each character has their own unique identity and penchant for their favorite activity: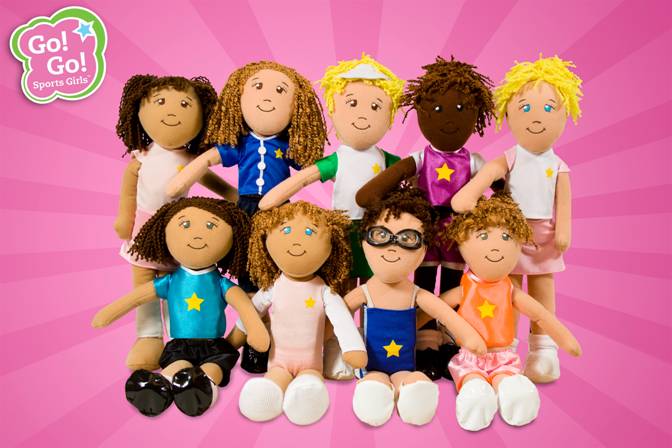 Gracie (Tennis Girl), Cassie (Soccer Girl), Brooke (Golf Girl), M.C. (Dancer Girl), Taye (Basketball Girl), Maya (Gymnastics Girl), Sam (Softball Girl), Suzi (Swimmer Girl), and Ella (Runner Girl)
What I love about the Go! Go! Sports Girls is the realistic persona and empowering messages they create for girls. (I loved finding the Dream Big reminder on Cassie's belly!)  Go Go Girls embrace individuality and positivity, while creating an attainable, healthy image for young girls.  You don't have to be a sports superstar to love Go! Go! Sports Girls, kids can relate to any of the nine fun characters.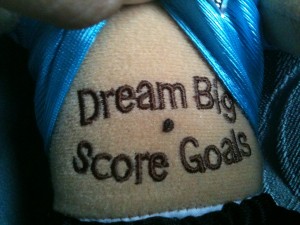 Because of the positive message and healthy images they portray, in addition to being appropriate for pre-schoolers all the way up to tweens, Go! Go! Sports Girls are one of the NKT best girl's toys at Toy Fair.
Go! Go! Sports Girls are in the $20-25 pricepoint and can be found online at retailers such as Target, Amazon, Sears and Sports Unlimited.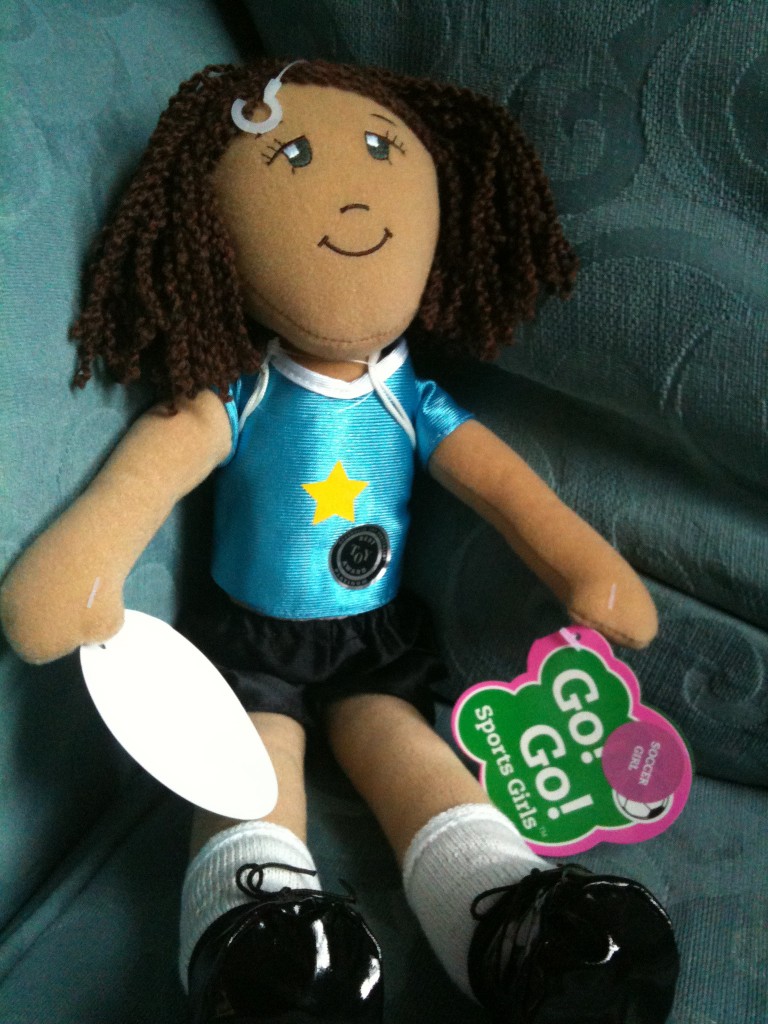 Win it!
I'd love to give away my Go! Go! Sports Girls sample.  If you'd like Cassie, just comment below and tell me which Go Go Sports Girl that you (or your girls) can best identify with!
For extra entries, please share on any social networking site and comment below to let me know.
This giveaway ends 4.9.10 at midnight.  Like all giveaways, winners will be picked via random.org and will be contacted via email, so please be sure to comment with a valid email address!
Check it!
Dream Toys has a partnership with Girls Inc., a nonprofit organization dedicated to inspiring all girls to be strong, smart, and bold. As part of the partnership, Dream Big Toy Company will donates 5% of profits from the sale of Go! Go! Sports Girls dolls to Girls Inc. to support the organization's programs for girls.  Go, go Dream Toys!