Yesterday, our First Lady, Michelle Obama, unveiled the nationwide campaign Let's Move, which aims to tackle childhood obesity. This campaign is geared to engage every sector that impacts the health of our kids, giving schools, families and communities the tools to help everyone be more active, eat better and get healthy.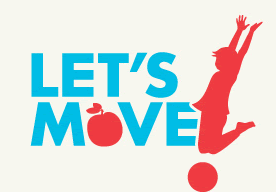 Mrs. Obama unofficially initiated this campaign when she broke ground on the White House organic Garden last year. In a NYT article, Mrs. Obama said, the main purpose of the garden will be to educate children about healthful, locally grown fruit and vegetables at a time when obesity and diabetes have become a national concern.
Soon after, Mrs. Obama appeared on an episode of Sesame Street touting the importance of fruits and vegetables, as well as healthy eating habits.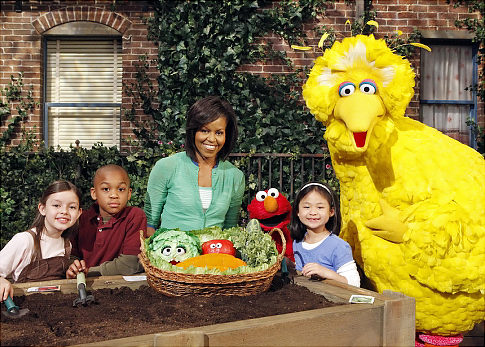 The Let's Move Campaign will emphasize four major facets, all of which underline the changes needed to combat childhood obesity:
Helping Parents Make Healthy Family Choices

Serving Healthier Food in Schools
Accessing Healthy, Affordable Food
Increasing Physical Activity
There was a great article on CNN that overviews the Let's Move campaign and touches on the aforementioned focal points of Let's Move.  One important take away for me was:
"About one-third of our children are overweight or obese. None of us want that for our country," Mrs. Obama said. "It's time to get moving."
One-third of our children?  That's way too many.
Naturally, various companies and organizations are jumping onboard for the Let's Move campaign. Just a few companies and organizations that I've seen are:
Chiquita Brands is participating in the United Fresh Produce Association Foundation's "A Salad Bar in Every School" campaign.
Dr Pepper Snapple Group other leading beverage companies said they are improving product labeling by listing calories more prominently on containers, vending machines and fountain equipment.
KaBOOM! CEO Darell Hammond hs been advising the First Lady's office on the importance of unstructured play in keeping children healthy. KaBOOM! is a wonderful organization that supports the cause of play.

According to KaBOOM!, businesses such as school lunch suppliers Aramark, Chartwells Schools Dining Services and Sodexo pledged to reduce the fat, sugar and salt in their meals over the next five years. Companies that make sugary beverages agreed to provide more nutritional information for their products.

Disney will create a series of PSAs featuring the First Lady and Disney Channel stars to convey the Let's Move message. The PSAs will be featured on the Disney Channel, Disney XD, Radio Disney, and Disney.com and will begin airing later this year.
Nickelodeon said they are offering parents the tools and information they need to make healthy choices for their kids by adding PSAs and other information throughout their programming.
As someone who's sincerely interested in educating kids and parents (including myself!) to make healthier eating decisions, I'm so thrilled to learn about Mrs. Obama's campaign and the many companies and organizations that have already signed on to participate in one way or another.  I've barely scraped the surface here, but I'll be sure to update my latest findings on this campaign, especially as more organizations join in on the Let's Move movement.
Until then, be sure to check out Let's Move blog, on Facebook and YouTube.