The first 'Best of 2009' and companies and products to watch in 2010 is Polliwalks.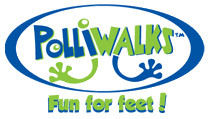 To be upfront, we are not a clog kind of family. Y'know, as in Crocs and the like…well, until we tried Polliwalks on for size.
Clogs, personally, are not my style, but for kids, I think they're functional and they seem comfortable. True story: the summer when the kid started to cruise, I brought a pair of clogs home. The next day, I was asked to return them. That's right, the clogs were vetoed.  And of course a few months later, at a family outing, we learned that the kid has a fondness for clog. (pastel pink ones to be exact!) They always want what they don't have; funny how that works!

And so, this fall when Polliwalks approached me to check out their line of clogs, I happily obliged. Polliwalks has a wide variety of animals, bugs, creatures and character-themed clogs, so it was hard to choose which shoe to try. Since it was around the time of my trip to Sesame Street, the characters were even closer to our hearts, so we went with Cookie Monster.



Once we opened the box, the Polliwalks, it was love at first sight for the kid. "COOOKIE," the kid screamed.  As the company and creator intended, on first impression, these shoes were really like toys and shoes combined.
Polliwalks are closed cell foam construction and resemble your standard clog with the open heel and strap in the back, but with a fun flair. Because the front of the shoe is designed with the characters head (which is so cute!) it's a bit wider and bulkier to accommodate the shape of Cookie Monster's face. There's a slight opening in the front, where cookie's mouth is, which makes a fun detail for imaginary cookie feasts.  The bottom of the shoe, like other Polliwalks, features the Footprinter Bottom that can leave a trail behind in sand or dirt.. I can't wait to see how these work at the beach, and I totally expect to see more Polliwalks on other little feet this summer!

What I love about Polliwalks is the fun and function. We only had the chance to check out this one pair, but I can say that Polliwalks are solid shoes.  Now, because our kid is a runner and often trips over his own feet, our day to day shoes are still our SRTs. However, when we travel, which was quite a bit during the holidays, Polliwalks are the shoe of choice. Polliwalks and clogs in general are great for toddlers and preschoolers who like to do things themselves. It's easy for the little guys to slip Polliwalks on and off. I like that they're lightweight and durable for our various roadtrips. We don't typically wear a lot of characters clothes or shoes, but Sesame Street is one exception.  "Cookie shoes," as the kid calls them, are fun in the car/plane and a great distraction when we play "find Cookie!" Wherever we go, the kid's Cookie Polliwalks are always a conversation starter. The love for Cookie Monster runs deep.  If your weather is anything like ours, it's super cold out right about now.   In their great lineup of unique clogs, Polliwalks also offers some "furry" styles.  Sizes for all styles vary, but most shoes come in toddler and youth sizes.

As mentioned, our guy is an active dude, so there's often a lot of running, jumping and falling. Right after he first started wearing them and before he got used to the shoes, the kid tripped and fell bc of the bulkier shape than he was used to. Cookie's head is cute and fun, but for younger kids who are still perfecting walking/running, the shape of this shoe should be considered.  However, they'd be perfect for preschoolers and up.  Also, I was a bit sad that after a few wears, Cookie's eyes were already scraped up.

While I love the idea behind the footprints at the bottom of the shoe, we live in a walkup brownstone (read: steep stairs.) That said, after a long and rainy roadtrip, the kid almost tripped up the stairs because Cookie's eyeball clipped a stair.  And finally, the price point. These particular shoes are in the $40 range on Zappos, and for some families, that's a bit on the steeper end for kid shoes. Other styles are less expensive, and I saw on a markdown site where selected Polliwalks styles were as low as $7.95!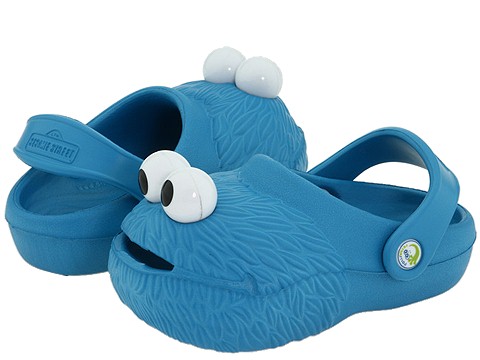 Because I think Polliwalks are fun, functional and unique clogs that are ideal for traveling, I consider them one of NKT's best of 2009. I can't wait to see their upcoming designs AND for the kid to wear them when we hit the beach this summer.

Would your kid like to romp around in their own pair of Polliwalks? Polliwalks is offering one NKT reader a pair of their own Polliwalks of their choice (depending on availability.)

Tell me what animal, critter or character they'd like to try and comment below.

For extra entries, share on Facebook, Tweet or spread the word on any networking site. Please include links.  This giveaway will end on January 22nd.

Thank you to Polliwalks who provided the product and are offering this giveaway!