Finally! I'm just now getting all caught up and posting my much delayed Holiday Gift Glossary! Over the next few days, I will be unveiling my favorite top picks for the NKT Holiday Gift Glossary. And oh yeah, I'll be giving away a few goodies, too!

Today's installment of the Holiday Gift Glossary is all about games! Check them out here or under the Gift Glossary tab above!





There's nothing like putting down the remote control and the video game controllers to enjoy a good old-fashioned board game with the whole family. These picks are just some of the many noteworthy, fun and fabulous toys that I think kids (and parents) will love. Games make a perfect group gift or even a secret Santa gift that everyone can enjoy!

Saucer Scramble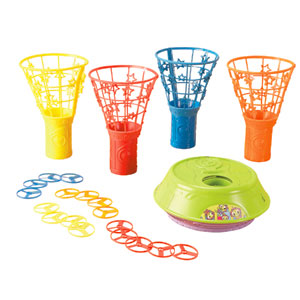 Saucer Scramble, is a perhaps one of my favorite new games out. A spaceship shoots mini saucers into the air and the players have to catch the flying saucers with their cone cups. If you catch five flying saucers, you win! At a playdate hosted by Mattel, my toddler, though he didn't exactly understand the premise of this game, he loved trying to catch (or swat at) the flying saucers. It's a fun game that will have kids (and adults) running all over the place.
This game is suitable for preschoolers and up, requires AA batteries and runs in the $25 price point.
What's in Ned's Head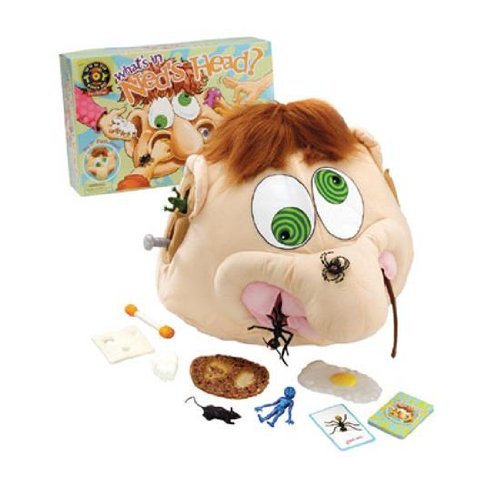 Are your kids the Gross-Out kind? Y'know, the ones who love to "ew" and "ahh" at gross things? Growing up, I have to say, my brothers and I fit this category very well, which is why I was drawn to What's in Ned's Head from Fundex. This unique and award-winning game is exactly what its name suggests: Players must dig into Ned's plush head and find silly things. Players are given a card with a picture of the item they must find. All the hands go in through his nose and ears, and players feel around to find the object on their card. Be warned though: this game isn't for the squeamish. Obviously, the objects are fake, but players must dig for gross things such as a dirty diaper, bird poop with a worm, different insects, smelly sock and vomit, among other things. The gross factor is part of the fun! I love it!

This one is another total family-type of game: if you don't mind digging for grossness, your guys would love this silly game that's been out for a few years now. What's in Ned's Head doesn't need batteries and is in the $20-25 price point.



Dangerous Book for Boys Game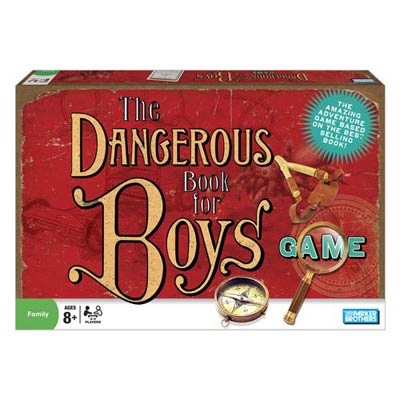 A few years ago, before our now-Tween nephews became so "old," we gave them both the Dangerous Book for Boys hardbacks. Their books were such a hit, that I was told one of my nephews carried around his book every day for months. In this age of video games and online worlds, the Dangerous Book for Boys was a fresh reminder of how awesome books, and well, being a boy in the outdoors really is.

This board game by Hasbro takes a few pages out of the popular book and encourages kids to use their imagination and the skills they've learned from the book. As Hasbro describes, players are asked to use their skills to complete solo or group challenges, test your knowledge of facts from the book or put your mental agility to the test. Each success wins you a puzzle piece so you can "build" a raft and sail off the island they're shipwrecked on. The first adventurer to travel along the whole track and complete their raft can to sail away, wins. This game is for 2 to 4 players, and is best suited for school age kids up to the tween set.



Richard Scarry's Busytown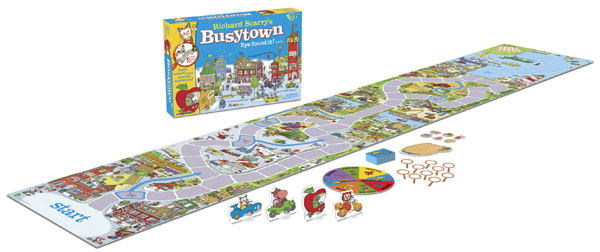 It's not big secret that like many of you, I've been a huge Richard Scarry fan since I was a kid. So, when I spotted Richard Scarry's Busytown Eye found it board game from a distance at the Holiday Showcase, I was smitten. This game by I Can Do it Games, just like the popular Richard Scarry books, features many of the fun characters and busy activities like Huckle Cat and Lowly Worm. What's unique about this game is that adventures are spread across a 6-foot long game board. There's so much to see and discover in the city streets, the activity-filled farm, the bustling airport, and a harbor full of boats. For kids who love playing sleuths and unveiling different discoveries, Richard Scarry's Busytown is a great family game that's totally suitable for preschoolers to big kids.

In addition to my fondness for Richard Scarry books, I love how this book-to-board game series is just as entertaining as its inspiration. I Can Do That Games are well made and very entertaining for the pre-school to school age set; it's no surprise Busytown Eye Found it! has won various awards. Like the old fashioned games, this one doesn't need batteries and it's safe to say, this one will likely be a favorite for years to come; like the Richard Scarry books, the Busytown board game is sure to be a timeless classic.
Richard Scarry's Busytown is in the $20 pricepoint and can be found at Amazon and Toys R Us.



Stomp and Hyper Blast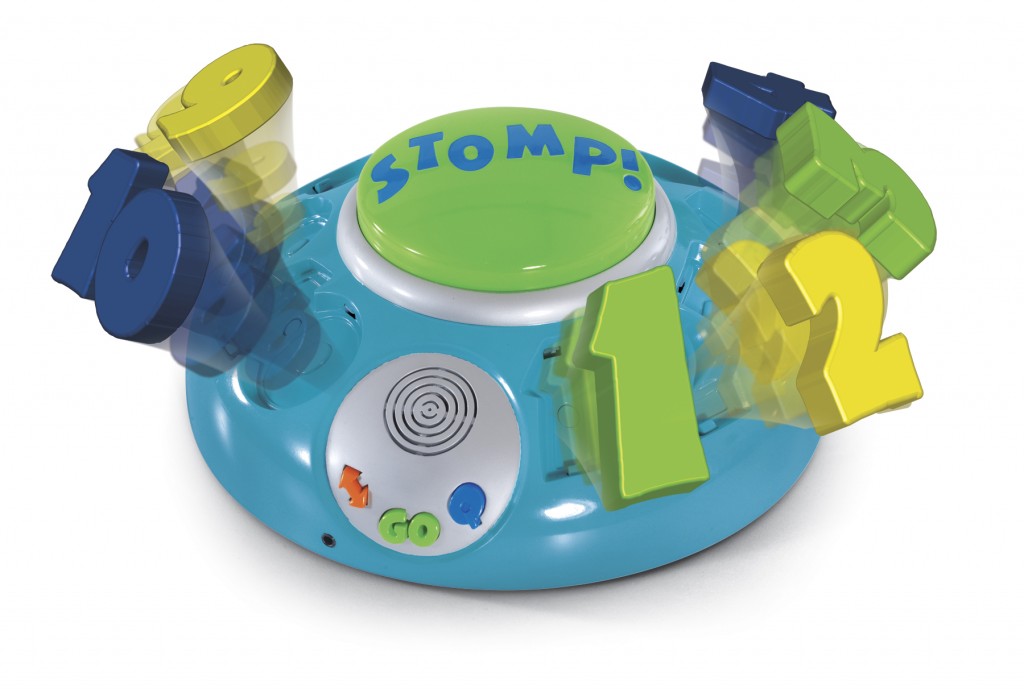 A
re your kids quick on their toes—literally and figuratively? Then, these games are for your crew. Wild Planet wants kids to exercise not only their mind with their cool games, but also their body. With 1-2-3 Stomp and Hyper Blast, players stomp their feet to send number flying and run to retrieve the numbers as fast as they can.
Wild Planet says the games have a base unit with a central launch pad and a speaker that calls out which numbers to run to and pick up. Players must return the numbers to the correct location on the base to receive their next command. 1-2-3 Stomp is for preschoolers, while Hyper Blast is for kids 6 and up. Varying levels of difficulty keep the games challenging as kids' motor and number skills progress.

I'm definitely not a numbers kind of person, but I love how these games integrate education, but keep it fun AND fast. What kid doesn't love to stomp while honing their competitive nature, but in a good way! These games are a great alternative to sedentary educational games and a perfect way to sharpen those math skills, too.

These games are in the $20-25 price point and can be found at major retailers such as Toys R Us.





I have both the 123 Stomp and Hyper Blast up for grabs! Enter below!
For extra entries, please tweet or share about the NKT Gift Glossary on any social networking site. Comment below to let me know you entered and don't forget to add links for your extra entries!

The NKT Gift Glossary is a holiday gift guide that showcases some of the year's most innovative and noteworthy products, toys and services. Of all the products I've tested, reviewed and researched, I've hand-picked these tried and true goodies just for this Gift Glossary…with giveaways to boot! Be sure to enter for your shot to win some of NKT's picks!

All giveaways end 12/22, unless noted. Winners will be emailed, so please use valid email addresses. Keep an eye out for the next installment of the NKT Gift Glossary!