Way before tracking trends and kid's products even became a blip on my radar, I stumbled upon Putumayo Kids music at a local gift store.  A huge advocate for diversity and lover of all things music-related, falling in love with Putumayo Kids was a given.

There are children's music compilations and then, there is Putumayo Kids.  Putumayo's various cds, which are geared to entertain, educate and inspire cultural curiosity in children, boast upwards to 3 million cds sold and stands apart from other children's cds.  The compilations are well-thought out and enjoyable for both kids and adults—a must for our music-loving family.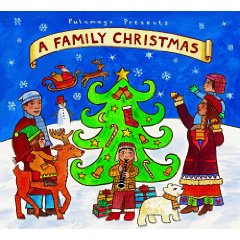 This fall, Putumayo released A Family Christmas, which I found to be one of the best recent kid-centric Christmas music collections.  Putumayo's A Family Christmas is a melodic departure from all the character-based songbooks, shows and cds that seem to monopolize the storeshelves, especially this time of year.  The songs on this cd are ones that we know and love, but the artists featured are none that I can recognize aside from Big VooDoo Daddy, (though you might recognize a few) which makes it even more appealing.  Can you think of a better way to enjoy the songs you hear a billion times over during the holidays than with a new fresh take on the classics for kids?

From Johnny Bregar's acoustic take on "Santa Claus is Coming to Town" to Big Bad Voodoo Daddy retro-swing version of Louis Armstrong's song, "Is Zat You Santa Claus?," to The Christmas Jug Band featuring Angela Strehli and Maria Muldaur's "Boogie Woogie Santa Claus," Putumayo's A Family Christmas covers all the music genre on one fun collection.  This compilation truly appeals to music lovers of all ages and from all walks of life!  My only complaint is that I can't seem to locate Putumayo on iTunes.  Maybe the next one?

My personal favorite on the cd is definitely Mele Kalikimaka by Debbie Davis & Matt Perrine, which I consider a kind reminder and shout out to one of our family's highlights of the year—our trip to Hawaii this summer to celebrate the kid's Godmother's wedding!


Be sure to check out the Putumayo Kid's site to check out their other award-winning cd collections.  Also, head on over to Amazon to give a listen to A Family Christmas, which is where I sampled this cd myself.  Music is a wonderful gift for everyone, especially cd compilations that have garnered awards like, Parents' Choice Awards, National Parenting Publications Gold Awards, iParenting Media Award and Oppenheim Toy Portfolio Platinum Award.

Without a doubt, after I pick up this cd from Barnes and Noble, Putumayo's A Family Christmas will be blaring from our speakers on our drive back to Virginia for the holidays.  Putumayo is so cool, they're offering a free MP3 download!  Just sign up here to receive your free download of the song "Jolly Old St. Nick" by Brave Combo from the new Putumayo CD A Family Christmas.
A Family Christmas can be found at retailers like Barnes and Noble, as well as online.