In the video game sector, titles and technology are constantly evolving. With many new handheld titles and fun family titles to choose from, I had a tough time narrowing down NKT picks. I could go on and on with this exhaustive list for great family video games, but I chose many of the ones below because I had the unique chance to experience them first hand. For the ones that I didn't try out myself, I felt that their family-friendliness and entertainment value coincided with NKT's scope.  And as far as giveaways go, this is a biggie!  Enter for a chance to win these recently released video games and NKT picks!
So, here they are: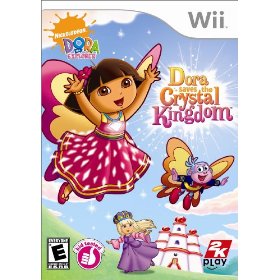 Dora Saves the Crystal Kingdom

Just like the DVD of the same name, Dora is tasked with saving the Crystal Kingdom with some butterfly wings and a wand in hand. Together with boots, players can gui

de her through her various adventures to save the Crystal Kingdom. This game is great for the younger kids, and is a sure bet with girly girls who love Dora and fairy tales. The game which was released this fall is available for Play Station 2 and the Wii.
Of course, I have a copy up for grabs.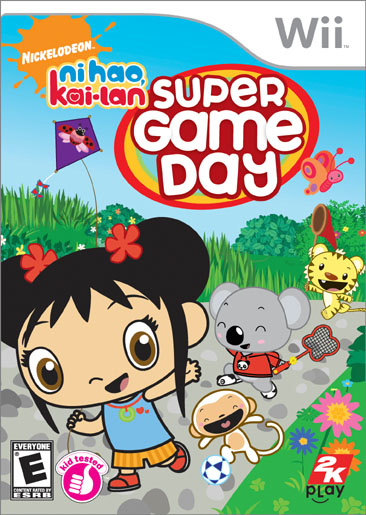 Kai-Lan Super Game Day

Have I ever professed my love for Ni Hao, Kai-Lan, the Nickelodeon cartoon about a Chinese girl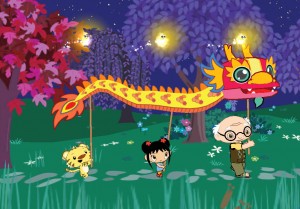 and her friends? It's such a cutie cartoon that reminds me so much of Hello Kitty with all of her little animal friends.

Super Game Day is a cute video game that's based off of Kai Lan's various adventures on the cartoon. With her friends and Ye Ye, her grandfather, players can play along with Kai Lan by catching butterflies, marching in a dragon parade, race dragon boats and even enjoy a good old fashioned carnival toss. We've enjoyed playing this game on the Wii, mainly because it's the only game where my kid actually gets. At his age, he clearly doesn't play video games yet, but this one is a great way to interact with one of our favorite cartoon characters. Super Game Day is most appropriate for preschoolers, but I bet big sisters and brother would enjoy Dragon Boat Racing every once in awhile. I love the variety of the mini games and the Storybook option.

The Backyardigans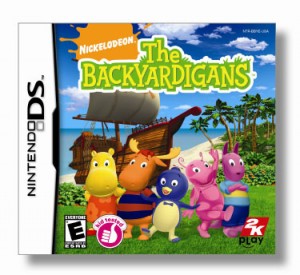 Who doesn't l

ove Pablo, Uniqua, Tyrone, Austin and Tasha? In their DS game the Backyardigans set off on a piratey adventure, intergalactic garbage collection excursion and sing and dance along the way. This one is another fun game that Backyardigan fans would get a kick out of.

I've got the Backyardigans DS game up for grabs! Please enter the form below to enter this giveaway!  And don't forget to share about this giveaway on FB and Twitter.  Be sure to comment for all extra entries.

Jumpstart Pet Rescue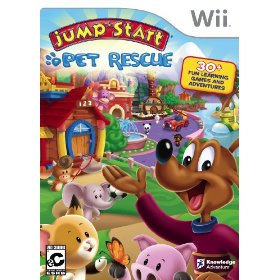 Look, if the kids are going to play videogames, they might as well play educational ones. JumpStart, the same great minds behind the educational software and website, recently released Pet Rescue, a Wii game geared to the preschool and early school age set. In this exploration-type game, kids navigate through five different stories in search of lost pets. In the process of their adventures, kids can hone their pre-reading skills, memory, creativity, motor skills, listening and much more. Though I've yet to play this game myself, it looks like one I'll add to my queue!


And how cool is this? Our friends at Jumpstart are offering one NKT reader their very own JumpStart Pet Rescue. Please enter the form below to enter this giveaway!  And don't forget to share about this giveaway on FB and Twitter.  Be sure to comment for all extra entries.
Imagine- Salon Stylist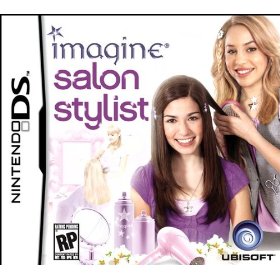 When we were growing up, video games never catered to the girly girls. But in this day and age of technology and gadget, companies like Ubisoft are finally catering to this niche market with the Imagine series. In this innovative series of video games for the DS, players can take on different roles such as Fashion Model, Interior Designer, Vet and much, much more. This summer, Ubisoft invited me to preview a few of their latest titles, and I fell in love with Zookeeper and Salon Stylist.  The Imagine games are ideal for school-aged and Tween girls interested in simulator and role-playing video games.  With the Salon Stylist, players can get all dolled up at the salon, get their hair did and get pampered.  Now if only this game allowed mom to do the same…but in person.
This game, which retails at $29.99, can be found at Amazon and other retailers that carry the Imagine games.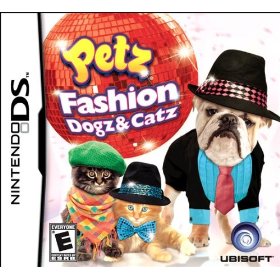 Petz-Fashion Dogz & Catz

In light of the hamster craze this holiday season with the Zhu Zhu pets mania, and well, the love for pets in general, I couldn't not include a Petz video game in the NKT lineup. Petz, the pet simulator line from Ubisoft, is a popular series for animal loving kids, some of whom don't have pets of their own. In Petz Fashion Dogz & Catz, like other pet simulators, players are task with caring for their pets, including menial, but necessary responsibilities such as petting, feeding and cleaning up after them. After all responsibilities are cared for, players can then dress up their pets and enter them in fashion shows. It's a cute and entertaining game for those who love pets, including the virtual responsibilities that come with them. Be forewarned however, if you're not up for the task for petting your virtual pet, this game probably isn't for you. But really, who could say no to a beret-clad cat? (Very LOL cats, no?)


Want to dress up your own petz? Grab my review copy!  Fill out the form below to enter.  Don't forget to share on Facebook, Twitter and other sites to enter (comment for extra entries)!
Parents, I bet you can still hear the familiar Super Mario song from our childhood. The one that we played for hours to reveal the hidden treasures and secret moves, just to save the Princess? That same one where only two players could play, but never simultaneously. Well, Nintendo finally released simultaneous multiplayer Super Mario Bros. exclusively for the Wii. In the new Super Mario Bros, up to four players can play together and work as a team in the multiplayer mode.

Clearly the graphics and adventures have evolved over the years, but Mario, Luigi and the Toad characters and premise remain the same. There are, however, a few new features in this Wii game, including a propeller suit, which will shoot players high into the sky with just a shake of the Wii Remote, and Mario's new ability to transform into Penguin Mario. Players can even ride different Yoshi characters and use their tongues to swallow enemies, items and even balls of fire. I've yet to personally check out this new version of my childhood favorite, but I can't wait to explore the Mushroom Kingdom via the functionality of the Wii.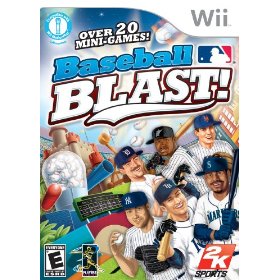 Baseball Blast

It might be the offseason, but baseball lovers can still enjoy America's favorite past time…indoors! With Baseball Blast by 2KSports, players can transform their living rooms into baseball fields. Baseball Blast, a series of mini games, can hit homeruns at a pirate ship to sink their opponent in Cannonball (my personal favorite!), play Dodge Ball with a pitching machine, catch pop flies and beat out their opponent in Fly Ball Fury, combine bumper cars and baseball in Bumper Base and keep the long ball going in Pennant Race by literally collecting pennants to beat out the other player.

Baseball Blast, which has the MLB license, is a fun alternative to the traditional baseball video games. The mini games add a little variety into the baseball-loving family's video game library. Baseball Blast is perfect for early school-aged kids and older to play against moms, dads and siblings, making it a great family video game!
And of course, I have a copy of Baseball Blast to give away!  Be sure to enter the form below to win a copy of Baseball Blast from 2K Games. Don't forget to share on Facebook, Twitter and other sites to enter (comment for extra entries)!

Other great games:
For skateboarding enthusiasts, Tony Hawk Ride and for music lovers, Beatles Rock Band are games that are currently on my radar for review and I'd love to include at a later date!  Both are great for the tween and teen set, and great alternatives to the shoot 'em up games. Both of these titles are worth mentioning and definitely worth checking out!