Over the weekend, the Yo Gabba Gabba Live tour kicked off at LA's Shrine Auditorium. I loved following the developments on Twitter, which makes me that much more excited to hear about the show in NYC this weekend.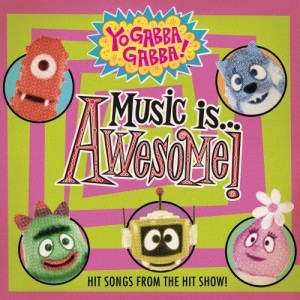 So, with more YGG on the brain, I thought I'd share my much overdue review on the Music is Awesome cd that launched last month.
Truth be told, Yo Gabba Gabba compilations aren't anything new to our YGG-obsessed family. Last spring, we downloaded a 10-song YGG compilation on iTunes for one of our many roadtrips. Singing along to songs such as "There's a Party in My Tummy" and "Biz's Beat of the Day" quelled our toddler's roadtrip anxiousness and boredom.
We were even more excited when we heard that a deluxe edition featuring even more songs from our favorite show would be released on cd and on iTunes. The "Music is Awesome" cd features 21 of the show's favorite songs, including our personal favorite anthem, "
Lovely Family
" from the Roots and The Shins' "It's Okay, Try Again." My only complaint is that this compilation doesn't include the Ting Ting's
"Happy Birthday" song
. (My kid will
sing it to you, though!
) But overall, Music is Awesome is a fun mix of some vibrant and very danceable songs from all different genres and a great addition to your family's music library. Seriously, what other kid show features bands that "will change your life?"
Music is Awesome
is available on CD at Target, Toys R Us, Wal-Mart, Best Buy, Barnes & Noble, Borders, and independent music retailers nationwide and on Amazon.
But of course, I've got one to give away.
To enter to win the Music is Awesome cd, just tell me your favorite song(s) from Yo Gabba Gabba! Comment below for each entry!
Extra bonus, if anyone can spot my movie reference above and name the movie and band I'm referencing, you get +5 extra entries and a little surprise! And if a bunch of you get that reference, we'll do a little drawing!
This giveaway will end next Monday, 11/23. Good luck!
Congrats, Elise! After getting the trivia question right, you won YGG's Music is Awesome cd—the +5 extra points did it!
movie reference is "Garden State (2004)", an excellent movie by Zach Braff. Natalie Portman hands Zach Braff her headphones and says "You gotta hear this song….It"ll change your life". She is referring to "New Slang" by the Shins! Fabulous song……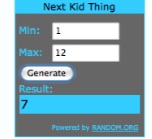 As for the movie reference, Elise, you got it right! Way to go! "Garden State" is one of my most favorite movies ever, and I love Natalie Portman's line about The Shins