Tuesdays always marks a fun day of the week, particularly because of all the fun new DVDs and CDs that are released. Well, this close to the holidays, you can be sure to expect even more exciting titles to pop up, with today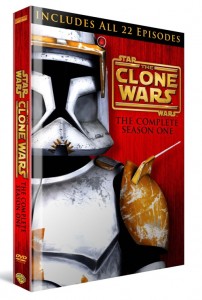 as no exception.

The first season of Star Wars: The Clone Wars, the wildly popular animated series that chronicles "a galaxy far, far away" was released today.

"The Clone Wars sweep through the galaxy, the heroic Jedi Knights – including Anakin Skywalker, Obi-Wan Kenobi, Jedi Master Yoda and padawan Ahsoka Tano – struggle to maintain order and restore peace. But despite the best efforts of these brave protectors, more and more planets are falling prey to the sinister forces of the dark side…"

In addition to all 22 episodes, the four-disc set offers a look behind-the-scenes and also includes an exclusive 64 page production journal. Exclusive to the Blu-ray disc, The Jedi Temple Archives provides in-depth access to an extensive database of creative materials.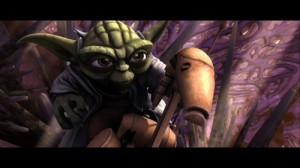 As children of the 70s and 80s, I know many of my parent friends are huge Star Wars fans, so, it's no surprise, The Clone Wars has garnered a lot of older fans too. At $44.98 for DVD and $59.99 for Blu-ray, The Clone Wars first season would make a great family gift for Star Wars lovers!

The dvd is available in stores today, and Star Wars: The Clone Wars airs on Fridays at 8:00 p.m. ET/PT on Cartoon Network.