The CPSC and Stork Craft have announced a massive recall on 2.1 million Stork Craft drop-side cribs, including about 147,000 Stork Craft drop-side cribs with the Fisher-Price logo, citing that the drop-side plastic hardware can break, deform, or parts can become missing which can cause the drop-side to detach in one or more corners.

As a result of these detachments and design faults, suffocation and other injuries have been reported.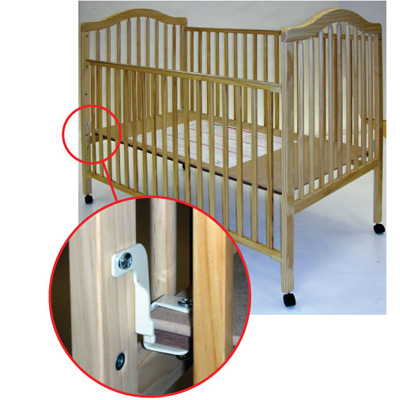 This recall includes Stork Craft cribs with manufacturing and distribution dates between January 1993 and October 2009. This recall also includes Stork Craft cribs with the Fisher-Price logo that have manufacturing dates between October 1997 and December 2004. The Stork Craft cribs with the Fisher-Price logo were first sold in the U.S. in July 1998 and in Canada in September 1998. The cribs were sold in various styles and finishes. The manufacture date, model number, crib name, country of origin, and the firm's name, address, and contact information are located on the assembly instruction sheet attached to the mattress support board.
I'm usually not one to go alarmist on recalls, but this one is huge–2.1 million cribs huge and is being called the biggest crib recall in U.S. history. If you use a Stork Craft crib that's included in this recall, it's recommended you find another alternative until the problem is rectified. It's better to be safe than sorry.

On a similar note, when purchasing cribs altogether, I'd recommend steering clear of drop-side cribs regardless of the brand. If it's any indication of the concern for these cribs, Toys "R" Us and Babies "R" Us no longer sell drop-side cribs. In addition, Suffolk County, NY, banned sales of the drop-side crib in October.

For additional information, contact Stork Craft toll-free at (877) 274-0277 anytime to order the free repair kit, or log on to www.storkcraft.com (Though as I'm about to publish this, it looks like Stork Craft's site is down.) To read the CPSC recall in its entirety, go here.