There's been so much hype for the opening day of one of my most awaited movies, and rightly so!  The movie, Where the Wild Things Are, which is set to release this Friday, is directed by Spike Jones and adapted by Dave Eggers–two of my favorite creative minds. I planned on talking more about this exciting movie later in the week, but in the meantime, I thought I'd mention that the video game is already out.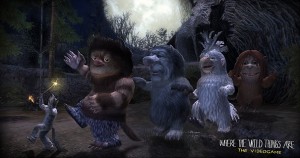 In The Where the Wild Things Are video game, players take on Max's perspective and explore the island, dangerous terrain and battle fierce, er, lovable creatures. The video game follows the same premise as the beloved book, but with a modern twist. The graphics are mysterious, exciting and absolutely incredible. Based on the trailer below, this game looks like something big kids and parents will enjoy.

This video game is rated E10+ and is available for Xbox 360, PS3, Wii, DS.