A couple of weeks ago, we noticed an AMEX commercial that touted a familiar colorful logo as one of its finalists in the Shine a Light program, a contest that recognizes small businesses. After a second glance, I realized that the colorful logo belonged to Happy Baby, one of the first companies that ever reached out to me, not to mention one of my favorite brands in the green marketplace and makers of organic baby foods.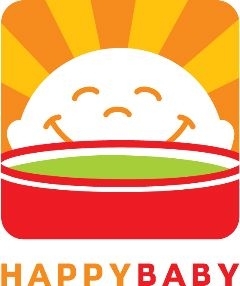 My review of Happy Bellies rice cereal on my original Babyrific site is still one of my most trafficked blog posts ever. It's really no surprise, what with Happy Baby's great line of products and inspiring business model. Their emphasis on sustainable agriculture and instilling healthy eating habits right from the start are all facets that any parent can appreciate. But perhaps, it's Project Peanut Butter, their program that provides food for starving children in Malawi, that sets Happy Baby apart from the rest.
As a socially responsible company that produces a truly wonderful product, I think Happy Baby is a well deserving finalist in the AMEX/NBC Universal contest. As an entrepreunerial mama to my own happy baby, I champion the great small business who are paving the way, so I wanted to share my thoughts on HappyBaby and ask you to support this inspiring small business. When you have a chance, submit a vote for HappyBaby in the Shine A Light Contest before October 16. (You have to register but it's quick and easy!)

The winning small business, voted on by the public, will be announced on October 19th. In addition to the $50,000 in grant money and $50,000 in marketing support from American Express, the winning small business will be featured on MSNBC`s small business show, "Your Business."

Good Luck HappyBaby!