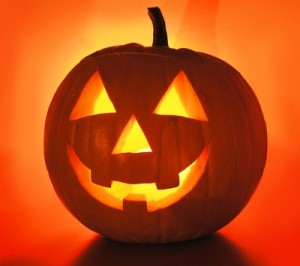 The spookiest time of year has finally arrived! Happy Halloween, everyone! As you put the finishing touches on the kid's costumes (or if you're like me, haven't even started your own) let's not forget the importance of safety. According to a report I read, statistics show that pedestrians are twice as likely to be struck by a car on Halloween night as they are the rest of the year. Not only are cars a concern, but so is the potential of getting lost.

There are plenty of sites and articles that offer advice on how to keep safe this weekend, but I thought I'd add my own two cents as well!


Safe make up and masks
The CPSC advises to use a natural mask of make up, rather than loose-fitting masks that could obstruct vision. Natural make up is key, as I'm sure you might have heard that the Campaign for Safe Cosmetics found that many face paints, including those used in Halloween costume makeup contain lead, nickel, cobalt and chromium. The Daily Green said exposure to lead is known to cause permanent brain damage, particularly if children are exposed in the womb or during the first six years of life, and can lead to a lifetime of problems ranging from learning disabilities to violent tendencies. So, go for natural make up and stay away from loose-fitting masks!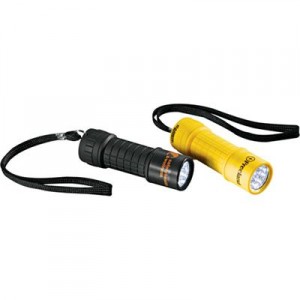 Stay safe with flashlights
Families who go out door-to-door trick or treating or anywhere on foot in the dark, should always carry flashlights to optimize visibility. But as a head's up, Target recently recalled Halloween Flashlights that were sold within their stores due to burn hazards. (mini flashlights and flashlights sold with stencils) Instead of buying those once-a-year flashlights that end up being less than stellar anyway, why not use the flashlights you already have at home and decorate them yourselves? Better yet, if you go to lots of tradeshows like I do, this would be a perfect opportunity to use those mini flashlights you get as giveaways.

Have a plan for the possibility of lost kids
With lots of kids running around in strange costumes and all the excitement in general, it never fails that kids get lost in the madness of parades, trick or treating and partying. For those with older kids, cellphones, meeting points and contingency plans are important.
But those for younger kiddies like me, what's a parent to do? Tattoo them with your contact info. just to be safe, right? No, really.


Safetytat is a fantastic product that I heard about at BlogHer, the blogging conference I attending Chicago this summer. Safeytat does as its name implies: it's a temporary tattoo for kids where you can write your contact info—just in case. I recently had the chance to try it out myself and I was quite impressed. It's super-easy to use, practical and ingenious. It's one of those parent-created products that came about as a solution, and definitely one of those "why didn't I think of that" ideas.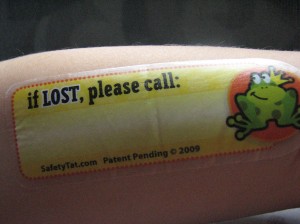 Though Safetytat can be used all year-round for endless uses, but I think Halloween, with all of its festivities, is an ideal occasion to put the ingenuity to work. I always got lost as a kid with my wandering ways, as did my husband, but it was a much simpler time in the 70s/80s in the suburbs. With us living in an urban setting, I love having the peice of mind of Safetytat on our bolt-prone toddler for all of our Halloween excitement. You can find Safeytat at AAA locations, other retail locations and definitely online.

For more Halloween Safety tips, head to the CPSC's website.

Full disclosure: I received a sample of Safetytats through my husband's employer, which is in no way affiliated with NKT.