The subject of school lunches remains a hot topic in the headlines, and of course, it's a timely topic for Wellness Wednesday.
In fact, yesterday, a report released by the Institute of Medicine suggested that school-provided lunches and breakfasts need to be improved and updated. I read a number of reports on the topic, but The Checkup on Washpost.com summed things up nicely.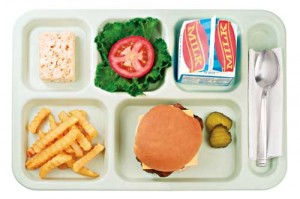 The IOM, an independent organization (one of the four National Academies) that advise the federal government on health and nutrition matters, issued a report today outlining its recommendations for improving standards for the national school nutrition program, in which virtually every public school and the vast majority of private schools take part. The report comes a few weeks after the Child Nutrition Act expired on September 30; Congress is due to reauthorize it this session.

The new rules would, for the first time, establish an upper limit for calories (650 per lunch for kids in grades K-5, 700 for kids in grades 6-8 and 850 for those in grades 9-12).

Students should be served more fruit, only half of it in juice form; more leafy and orange vegetables but fewer potatoes; only 2 ounces of meat at lunch and 1 ounce in school-provided breakfast; more whole grains, and 1 percent or skim milk instead of whole or 2 percent.

The school lunch program's current nutrition standards are based on the 1995 Dietary Guidelines for America — which were revised in 2005 and are again under revision, with a new set due next year. The similarly outdated 1989 Recommended Dietary Guidelines have since been supplanted by the IOM's Dietary Reference Intakes.


Based on the IOM's findings, it's obvious nutrition standards in the school lunchroom are outdated.  The Washington Post goes on to point out that President Obama has put an extra $1 billion in his 2010 budget proposal for child nutrition, including school meal programs. And once again, with childhood obesity always a concern, it's time for these standards to be realigned with our kids' wellness in mind.

As I read in this article, it's a given, updating these standards won't be cheap.  In terms of our own family's grocery bill, we expect to pay more for organic, natural and local products.  I consider that extra expense well worth it.

I'll be sure to follow the ongoing coverage of this topic, so please stay tuned.