Crayola had all kinds of fun goodies at the Holiday Showcase, but one simple and clever innovation in particular shows just why this company is associated with generations of creativity. With a new web application called Lights, Camera, Color, Crayola is once again thinking outside of the box—literally.

After uploading photos, the Lights, Camera, Color application gives kids a chance to print, color and customize their creations. Whether they're photos from family gatherings, vacations, fun outings, field trips, birthday parties—you name it—kids can create their very own coloring pages.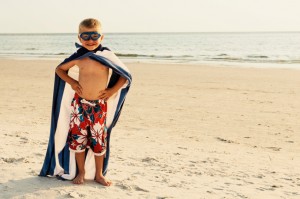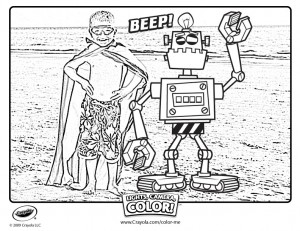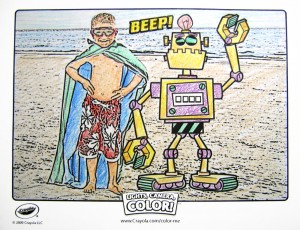 Specially-marked Crayola crayon boxes of the larger assortments–48, 64, 96, 120 and 150 ct.–will have a special code to unlock the Lights Camera and Color picture printing capability. The application can be tried for free online, but a code is required to print out the pages.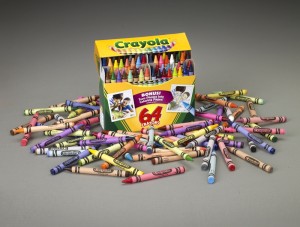 If your family is on the market for a new point and shoot kid-friendly camera, Crayola is also partnering with Olympus to offer the FE-46 Digital Camera Coloring Set featuring Lights Camera, Color. This $99 bundle will include the 12 megapixel FE-46 Digital Camera, a 64-ct. box of crayons, a colorable craft storage box, as well as a code to unlock the printing capability.

But looky here, Crayola is giving you, my awesome readers here at NKT, an opportunity to try out the Lights, Camera, Color application for free! Load up your ink cartridges, make sure the printer paper is stocked and give Lights, Camera, Color a whirl! For one day only, enter the code PRT77F3S and print out pages and color like crazy!
If you feel inclined and choose to take advantage of this freebie, I'd love to see what you guys create! Send me links to photos or email to me so we can show Crayola all of your budding Picassos and O'Keeffes! My guy has been sick for a week now, so while he's on the mend, we're going to give Lights, Camera, Color a try later today!

Please stay tuned for even more Crayola goodies and possible giveaways! Thank you to Crayola for this fun freebie and for sharing it with NKT!