In the olden days, our school supply list included No. 2 pencils, loose leaf paper, folders and maybe a few pens.  Nowadays, with computers playing such a integral role in our lives—especially our students' lives—flash drives have become so imperative.  From saving papers, images and important homework assignments, transporting documents from one computer to another is at their fingertips—and USB drives.  And because flash drives have become so popular, they now come in colors, designs and flavors as unique as the personalities that own them.
For those with a sweet tooth, Jazwares introduced a fun new line of Hershey's Miniatures and sweet assortment-inspired USB drives.  These USB drives are truly sweet and come in 1, 2 and 4 GB in the regular Hershey's, Krackel, Mr. Goodbar, Twizzlers and Bubble Yum varieties.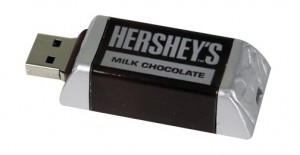 This isn't just for students, I found that this flash drive was fun and compact, yet its chunky size was easy to find in my computer bag that's already littered with a collection of the stick-style flashdrives.  The USB attachment easily slides in and out of the candy bar, adding to its ease of use and making it a perfect addition to any student's school supplies arsenal.  These USB drives retail in between $14.99 and $29.99, depending on memory size.  The Hershey's Yum Drives can be found at retailers like Best Buy.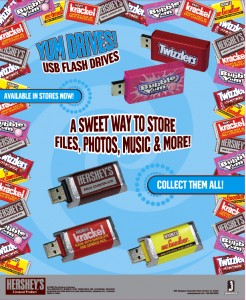 I've got a 2 GB Hershey's USB Yum Drive up for grabs.  Comment to let me know any (or all) of the other flavors that are offered.  Share about this giveaway for extra entries.  This giveaway ends on 10/6.  Enjoy!