Jenny McCarthy is no stranger to vocalizing important topics, specifically ones that pertain to parenting. In line with her (and many parents') belief to build and maintain a better environment for children, McCarthy will be launching a line of affordable, non-toxic infant & juvenile products. After reading on Twtitter that McCarthy was spotted at this week's ABC Kids Expo in Vegas, it makes so much more sense. McCarthy, who has partnered with PEM, officially unveiled the line, Too Good, at the expo.

McCarthy's line of kiddie products will include bedding, bath textiles, room decor, newborn gift sets, cleaning products, gluten-free food and beverages, and other categories.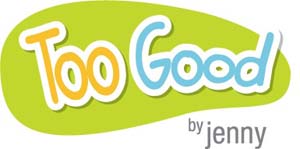 A recent article in Brandweek best described McCarthy's efforts as a mom:
Jenny became an advocate for a holistic approach to child development after her son Evan was diagnosed with autism in 2005. She has been vocal about such causes as staggering immunizations, adhering to a gluten-free diet and eliminating chemicals in everyday products, such as lead paint in toys or BPA plastic in baby bottles.
McCarthy's Too Good line is set for launch at mid-tier retailers next spring or summer.

I know many moms have read Jenny's best selling books on motherhood, so I'm anxious to see these products for myself! I applaud Jenny for using her celebrity status as a platform to create a less toxic environment for all of our kids—and for making it affordable. Be on the look out for Too Good by Jenny.