With the kids back in school and the ongoing concern for childhood obesity, healthy eating habits, naturally, is a hot topic for many parents.  One trend for packing lunches that's flourishing in not only kids, but also adults, is the Bento Box.  Japanese-style bento boxes have nesting compartments which is perfect for fresh fruits, veggies, pasta, last night's leftovers—you name it.  The compartments also serve as a built-in portion control system!  Genius.  As the popularity of Bento Boxes grows, as do the different varieties.  Here are just a few of my favorites:
The Goodbyn is an awesome Bento Box that Brandy, a friend and NKT reader, first told me about a few months ago.  And after hearing about it, it's no surprise that I read about it in various places—it's just that cool. 
This Bento Box, designed by a mom, has six compartments, a lid and an 8.5 oz. drink cup.  The animal-ish shaped boxes come in kid-friendly colors and even come with stickers that kids can use to personalize.  The beauty of Bento Boxes is because of its compartments or nesting containers, it eliminates the usage of plastic baggies, and in this case, juice boxes.  The Goodbyn, an eco-friendly and pretty sweet alternative to traditional lunchboxes, not only promotes healthier eating by controlling portions, but it's also safer since it's said to be  Phthalate and BPA-free.  It's no wonder The Goodbyn is creating all that well-deserved buzz.
Zojirushi Mini Bento Box
I recently had the chance to check out the Zojirushi Mini Bento Box and I love it; it's so cute and functional!  This is one company that gets it right.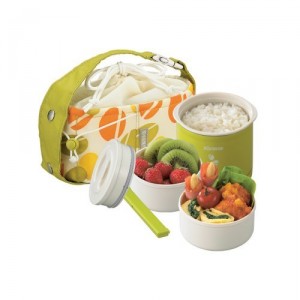 We received an amazing Zojirushi electric skillet as a wedding/shower gift, and we love it.  And so when I received this one at an event, I knew it would be just as great.  The Mini Bento Box comes with 3 containers:  2 smaller plastic containers and 1 larger container with a twist off lid.  The smaller containers would be ideal to hold leftovers, fruit, veggies and the like.  The larger container looks like it's meant to hold rice; I love that it also has a removable outer metal cup to keep it warm.  The fabric bag is cute and very portable; it certainly wouldn't take up much space in a bookbag.  This set comes with a chopsticks and handy matching case, too.  Like many Americans, I have no discipline when it comes to portion control, and so I will say that this mini bento box lives up to the "mini" part.  It would be ideal for kids, especially since you can tuck things into the pockets in the fabric bag.  For mamas who make their own baby food, this mini bento box would be perfect to store those cubes in!  This Bento Box can be found at Amazon.
Bento Set in Black Sushi
This Etsy find from Spacestitch was too cute not to mention.  It encompasses elements of both of the above Bento Boxes, all rolled up into one.
I love the sushi print combined with the black contrasting fabric and pink ribbon, which gives it a modern and whimsical look.  This set comes with a two-tiered plastic bento box, utensils, napkin, drawstring bag and elastic bands.  This set looks like it would carry a lot more, making it perfect for moms and older kids.  This Bento Box cannot be microwaved or put in the dishwasher, but its convenience and cute factor make up for that!
If you already do Bento Boxes, what are some of your meal ideas?  I love how creative people get with lunches, so let's hear 'em!  For some great ideas check out: The Goodbyn blog; Hippomum's photos; and  Kideats Flickr Pool
Seriously, these people inspire me to get more creative and diverse with the kid's meals.  Hey, if it gets kids of all ages interested in eating/trying healthy foods, I'm all for it!