One exciting toy that's worth buzzing about is Battle Strikers by Mega Brands. This new toy, which was released earlier this year, is already being called a "breakout toy" by Chris Byrne, AKA The Toy Guy.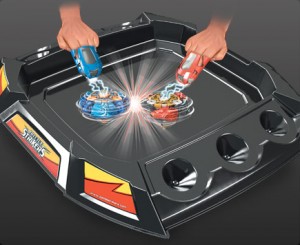 So, what is it? An updated and exciting version of the classic spinning top, Battle Strikers takes it to the next level with battery-operated launchers, unique and superfast Strikers and a tournament arena. After being launched, the lightning-fast Battle Strikers can be navigated by magnetic finger Controllers, adding even more excitement to the playing field. Battle Strikers is a simple concept that Mega Brands has revved up to offer a kid-controlled battle system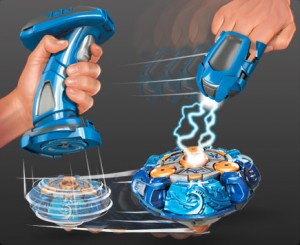 Mega Brands gave us the chance to test out the Tournament Set, so I enlisted the help of my 12-year old nephew who is no stranger to battle systems.  The Tournament Set, which retails for $35, comes with two Launchers, two Controllers, two Strikers and a battle arena.  Starter kits and single Strikers are also available.

Upon first impression, as a mom to a little guy, I balked at all the small pieces that Battle Strikers included. (The suggested age range is for 6 years and up) But once the actual Strikers were constructed, it all made so much more sense to me.  The Launchers, Controllers and Strikers are all boldly colored and appear to be durable enough to withstand countless battles. The arena is a basic plastic square with walls that allow for enough room for the Strikers to battle, but still be controlled. There are a few great YouTube videos that showcase Battle Strikers in motion, but I love how candid this one is: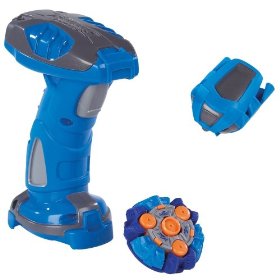 As I mentioned, the premise of Battle Strikers is simple, with new technology and engineering for a new generation. There are 12 different Strikers, which all have their own character and strengths, differing in attack, defense and control.  Kids can collect and interchange the different Striker pieces to customize and enhance their battles.  The Strikers easily click into the bottom of the Turbo Launchers. The Launcher, which channels a joystick of sorts, accelerates the Strikers by pushing a trigger on the handle.   The Launcher releases the Strikers by bumping the opponent's Launcher or tapping the top of your own. Once things are in motion, it's pretty empowering to be able to navigate and strategize with the magnetic Finger Controller.  (Don't get let the Controller get too close to the Striker because the magnet will pick it up. I know this one firsthand!) The object is to keep your Striker in motion, and the last Striker standing wins.
One thing my nephew kept mentioning is that Battle Strikers reminded him of Beyblades, another battling top sort of toy. From the research I did, it seems like Beyblades has a very loyal following, many of whom seem to have mixed opinions of the new Battle Strikers. I remember buying my nephew a few Beyblades toys when he was into them, but from what I can tell now, they seemed to have fizzled since I haven't heard much about them. With its powerful launchers and 12 different customizable Strikers and Finger Controllers, Battle Strikers will likely have its own loyal following!
Battle Strikers is a fun new game that involves imagination, competition, strategy and speed, and one that I think older boys will love. Battle Strikers is likely to land on a lot of Christmas gift lists this year, and don't be surprised if you hear even more buzz on these soon!
**
Be sure to check out Battle Striker's website to get a taste of the action with all their fun interactive features! Battle Strikers can also be found on YouTube and Facebook.