Spike Jonze's adaptation of Maurice Sendak's classic, "Where the Wild Things" continues to create buzz. This time, there's been some rumblings of the highly anticipated movie's soundtrack.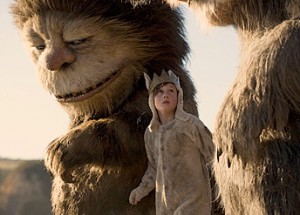 Specifically, what caught MY attention is the fact that the Karen O, the frontlady of the Yeah Yeah Yeahs, is just one of the many rockstars that will be featured on the soundtrack. According to Rolling Stone, the soundtrack will also feature:
Karen O's YYYs bandmates Brian Chase and Nick Zinner along with Tristan Bechet (Services), Bradford Cox (Deerhunter), Dean Fertita (Queens of the Stone Age, The Dead Weather, The Raconteurs), Aaron Hemphill (Liars), Greg Kurstin (The Bird and the Bee), Jack Lawrence (The Dead Weather, The Raconteurs, The Greenhornes), Oscar Michel (Gris Gris), Imaad Wasif (New Folk Implosion, Alaska). An untrained children's choir contributes to the songs and soundscapes.
The soundtrack will be released on September 29th and first single "All Is Love" will come out August 25th digitally.
Where the Wild Things is gearing up to not only be a movie to be seen, but also to be heard! In case you haven't seen the trailer, be sure to check it out!

I just love that one of my favorite books ever is being made into a movie by one of my favorite directors and writers! I seriously can't wait for this one!