Last month, I professed our love for Stonyfield Farms and I also mentioned YoBaby's new packaging , as well as the introduction of YoBaby Meals. As a refresher, YoBaby Meals are a mix of yogurt, fruit and veggie purée–all in one 6 oz. cup. The YoBaby Meals come in three different flavors: Pear & Green Bean, Peach & Squash, Apple & Sweet Potato.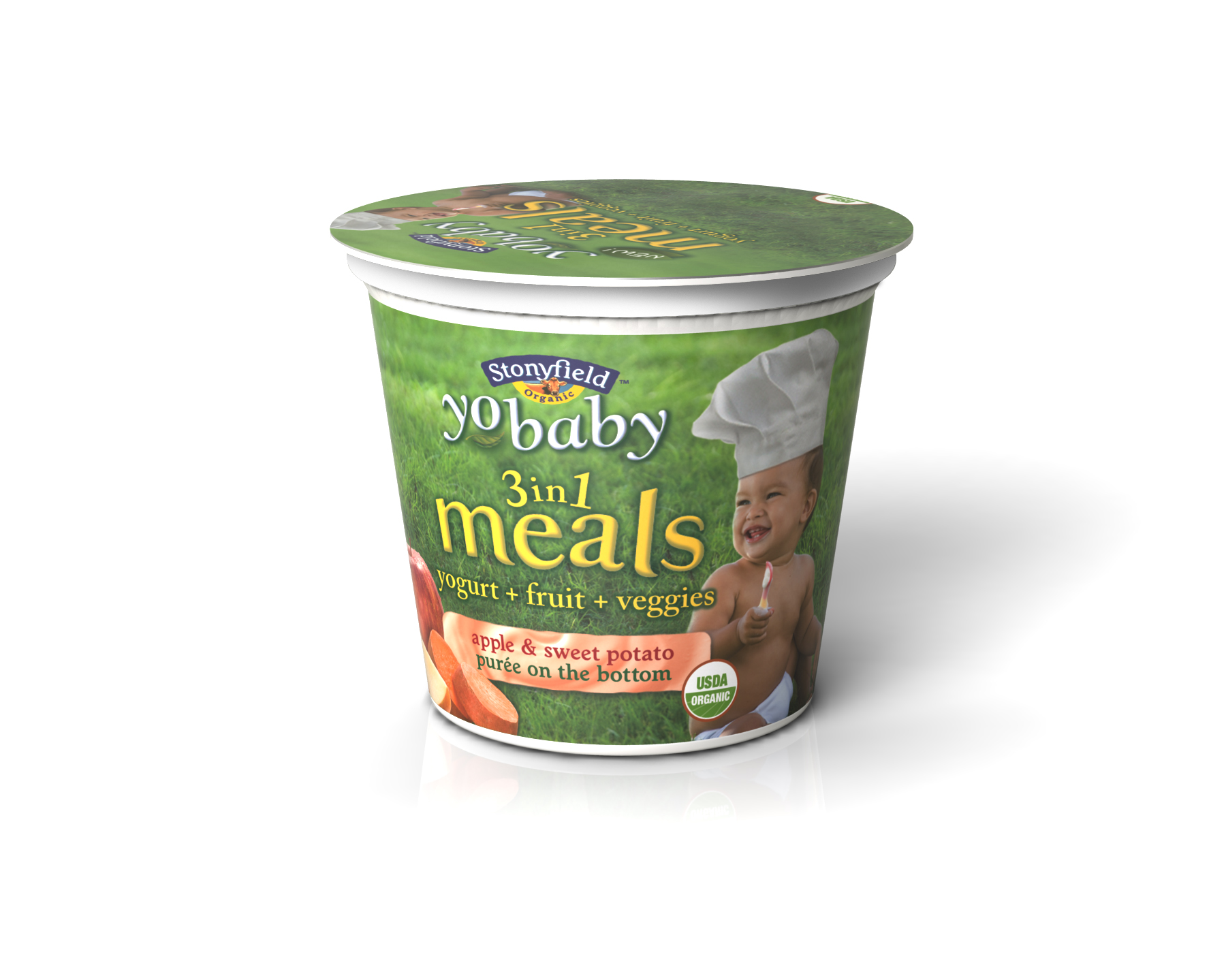 We recently had the chance to try out Stonyfield Farm's YoBaby Meals, and big surprise, it was a hit. Even before I could open the container, my almost-2-year old was frantically signing and saying more. (He's a patient one, this guy.) For breakfast, he tried the Apple & Sweet Potato meal, along with some dry cereal on the side. He's still perfecting his utensil usage, but for the most part, he shoveled the YoBaby Meal without hesitation.
Ok, well, at first, he was surprised by the first bite because the apple and sweet potato combo was new for him. I tasted it too; it's somewhat sweet with hints of apple and sweet potato. It was a good mix of the trio. He didn't finish the entire package because he had cereal on the side, but ate the 1/4 of the cup that was leftover for a mid-morning snack. It goes without saying that he absolutely enjoyed the apple and sweet potato YoBaby Meal.
I love the convenience behind the YoBaby Meal. It can be a snack or a meal—and a healthy, organic, nutritious snack/meal at that. The combo of fruit, veggies and yogurt makes this product ideal for babies, toddlers and I'd say, pre-schoolers, too! (the packaging says it's great for babies and kids 6 months and up). I'm willing to bet even picky eaters will love the taste and creamy texture. I'd highly recommend the Meals for any family with wee ones. It's healthy, organic, delicious and convenient. What's not to like?
At right around $1.29/container, YoBaby Meals is a great new addition to my grocery list for my generally good, though sometimes picky eater. YoBaby Meals started rolling out to stores on July 1st, so be on the lookout in your dairy aisle.
As I mentioned before, our family is loyal to Stonyfield Farms products(who isn't!), so I was quite excited when they contacted me. Not only did they give us a chance to try out the delicious YoBaby Meals, but hello, they're offering one NKT reader a pretty awesome giveaway.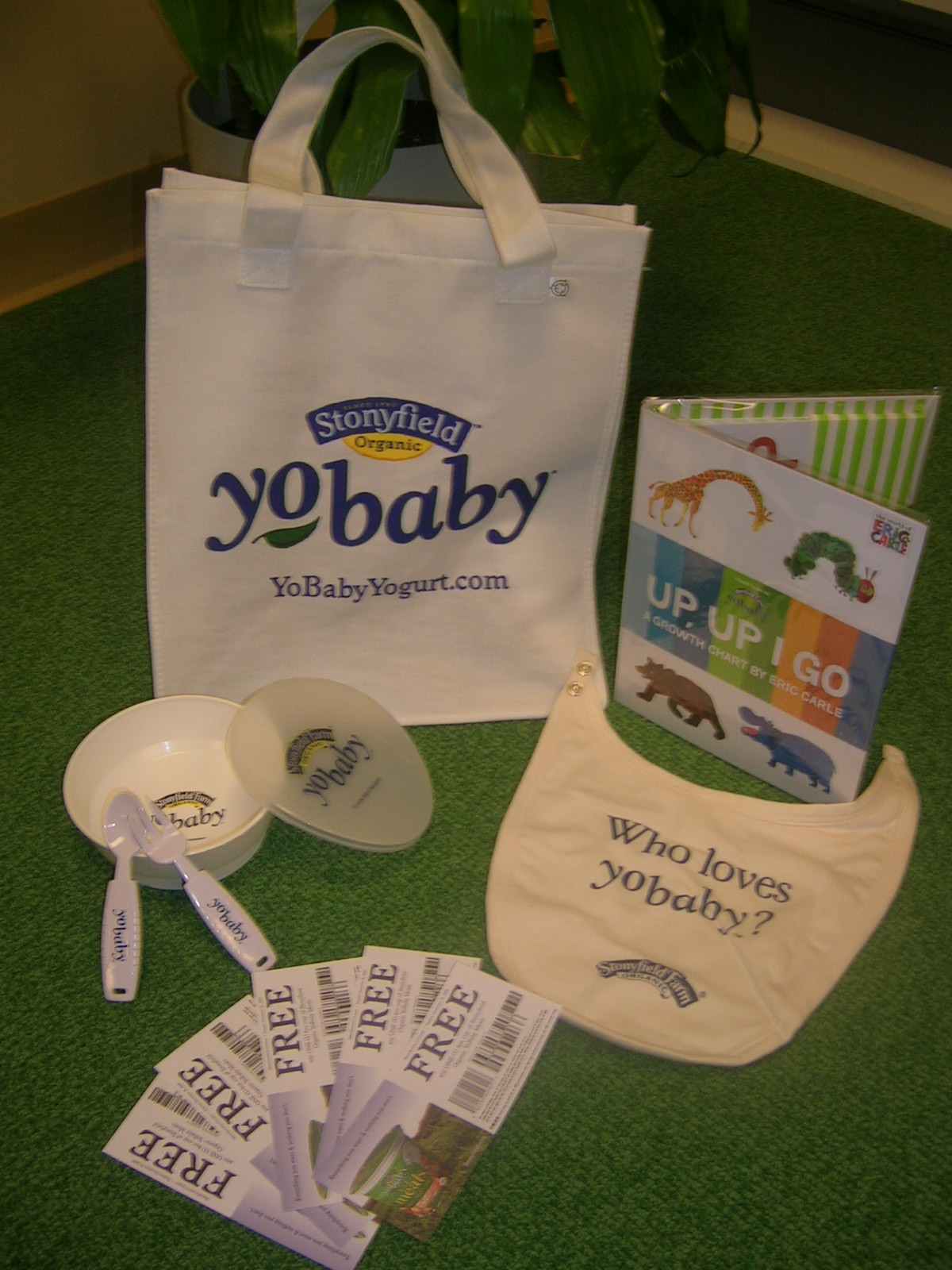 The YoBaby grab bag consists of:
A reusable YoBaby Bag
an Eric Carl Growth Chart
a YoBaby travel bowl with lid and utensils
an organic YoBaby bib
a bundle of 5 Free YoBaby coupons
How fun is that?
Want to win the YoBaby giveaway?
Tell me one YoBaby Meals flavor combo.
For extra entries:
Tell me the other flavors
Tell me your favorite Stonyfield Farms product
Tweet about this giveaway
Share this giveaway on Facebook
Comment on the NKT fanpage YoBaby Meals post (once I post it)
Please comment for each additional entry. This giveaway ends on August 5th. Good luck!
*********
This contest is now closed!