What's up with that fuzzy orange hat, those cool beats and those funky friends, like the green striped monster?  Whatever it is, DJ Lance and his friends from Gabba Gabba Land have captivated legions of fans—parents and kids alike—with the crowds in NYC at last weekend's SummerStage show to prove it.  In this first installation of the NKT Saturday Special feature, find out who got to fistbump DJ Lance, what was my favorite song of the set and what makes us love a show with songs like, "Party in my Tummy" enough to wait in crazy lines!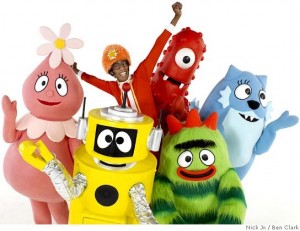 Last Saturday, along with hundreds of other families, we waited in the heat and battled the crowds for a chance to rock out with Yo Gabba Gabba. The SummerStage, which hosts free performing arts festivals in Rumsey Playfield in Central Park, was the venue for DJ Lance and Brobee of Yo Gabba Gabba. Saturday's free show had families lining up a few hours before for the free event, which unfortunately, had to turn away several hundred fans once the venue was at capacity. Families braved the heat and packed the bleachers, seats and surrounding areas, all in the name of Yo Gabba Gabba, one of the most popular Nickelodeon shows for both parents and kids.
After conquering the lines, claiming our seating area, we unpacked our picnic on the lawn of the concert venue.  As we dined on our sandwiches and snacks, we were greeted with show openers, a puppet show, the performer Billy B and the stars of an upcoming Nickelodeon show, The Fresh Beat Band (formerly known as the Jumparounds.)
Though we were busy chasing the tot around since he wasn't too invested in the first two performances, the openers seemed to entertain the older kids. Billy B incorporated great props and interacted with the crowd well, reaping many chuckles and giggles.

After the first two acts, the very animated Fresh Beat Band, otherwise known as Kiki, Twist, Marina and Shout, took the stage. Even before their first number started, the kids, familiar with their teaser videos on Noggin and Nickelodeon, were already clapping and cheering for those crazy dance moves. And of course, they got what they wanted. To be completely honest, this particular band isn't my favorite. But regardless of how I might feel, all the kids at SummerStage, my kid included, loved hearing familiar songs like Loco Legs. The Fresh Beat Band's show will debut on Nickelodeon on August 24 and will surely sing and dance much more about those Loco Legs.
Once the crowd was officially warmed up, it was the moment we anticipated (and willingly sat around in the heat for!) The headliners for the Central Park SummerStage global family day, DJ Lance Rock, and lovable green monster, Brobree, of Yo Gabba Gabba fame brought the crowd to their feet. To be more accurate, at the first sight of that fuzzy orange hat, with kids perched up on shoulders, a steady flow—ok, a rush—of people made their way to the stage, with that rock concert kind of excitement! DJ Lance spun familiar "jingles" as he called them, which had parents and kids singing and dancing. "Love Your Family" by the Roots was my absolute favorite song of his set, but the kid was all smiles after hearing "Party in my Tummy" and the game "Freeze!"
DJ Lance brought Brobee up on the stage, said his hellos and even danced a bit, but because it was hot, understandably, the furry dude's appearance was short but sweet.  Though there wasn't an on-stage Dancey Dance part of the show, the crowd made up for that void.  From tiny babies to grandparents, DJ Lance had everyone singing, dancing and smiling throughout his energetic 30-minute set.
So, how does a show with unique songs like "Party in My Tummy," become such a favorite in the first place?  It's hard to pick just one reason, but really, so much has to do with originality.  DJ Lance, Brobee and the rest of the characters of YGG are eclectic, yet adorable. They exude a natural coolness, which has attracted memorable guest stars such as Tony Hawk, Jack Black, The Ting Tings and The Roots and regulars like Biz Markie (C'mon, you know you love Just a Friend!) and Mark Mothersbaugh of Devo fame.  The show, which debuted in 2007 has become quite a cult classic among parents, some who create handmade crafts—-from Brobee scarves to Foofa cupcakes—-and some who sport their own YGG shirts.  Forget the kids, how about a DJ Lance set for the adults!

With catchy tunes that parlay educational messages, the colorful dance moves, awesome guest stars and often eye-popping illustrations and costumes, it's no wonder Yo Gabba Gabba has become one of Nickelodeon's most watched shows.  It's a show that we've grown to love and enthusiastically dance along with the kid.
Whenever YGG is brought up among friends, it's never surprising that so many of us love DJ Lance and the whole gang.  What was so wonderful about this fun and free show at SummerStage was how the crowd reflected so much diversity and multiculturalism—a reminder that music has no boundaries.  I loved the way everyone was dancing, and not to mention the way little kids were decked out in DJ Lance gear, and the way a few dads sported their own Brobee shirts.

Yo Gabba Gabba is a happy family show that encourages music and dance appreciation, and one that I'm sure will be around for a long time.  If you and the kids are fans and YGG comes to do a show near you, I highly recommend going, just be prepared for crazy crowds!  You won't regret it!
After mentioning that I was featuring Yo Gabba Gabba's concert on NKT, the production company kindly put the family and me on the VIP guest list to visit with DJ Lance after the show. We waited in a short line behind workers' family members and other VIP guests, for our chance to say hi and pose for the obligatory photo.  There was a dad in front of us whose kid seemed far from interested in meeting Lance.  But the dad had at least 3 cds in his hand to be autographed and could name every single character and probably guest star.  My guess?  He was a big fan.
At not quite two, the kid has a fondness for energetic dance enthusiasts, much like himself.  But as we approached DJ Lance, who is much taller and leaner in person than I expected, was extremely animated when he said hello to us.  Startled at first, the kid quickly warmed up and even bumped fists with his favorite orange-clad DJ.
As a trade-off for living in such a small space, I've always promised that I'd take advantage of everything the NYC-area has to offer.  Add the kid and NKT to the mix, a new adventure and story idea is just a ferry, subway or bus ride away.  Meeting and covering the main characters of our kid's favorite shows definitely tops the list at the moment.
Created by Christian Jacobs and Scott Schultz, YGG is produced by The Magic Store and Wild Brain and can be seen on Noggin and Nickelodeon.
**
Moms and dads, if you're fans of YGG, tell me what you love about the show!  Maybe we can convince the crew to hit even more towns so more people can break it down with DJ Lance and the gang!!