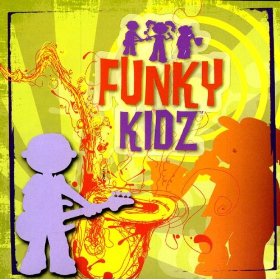 Happy Monday, everyone.  We had quite an exciting music-filled weekend, and I can't wait to share all about it.  But in honor of yet another fun adventure with NKT in mind, I'm happy to announce another weekly editorial focus. Every Monday will be fittingly dubbed, Music Monday, and will feature music-influenced posts.

To start off the first Music Monday, how about some funky, jazzy kids tunes? I recently had the chance to check out Funky Kidz, which is a musical compilation performed by several artists from New Orleans and features covers of children's songs.  Including classic kiddie songs like "Hokey Pokey" and "Somewhere Over the Rainbow," the award-winning CD includes musicians include such as Ivan Neville of the Neville Brothers; The Radiators; George Porter Jr. of The Meters;  Bonerama, and more.


Unlike other popular kid cds, this collection of songs isn't promoted by a popular tv show or cartoon character.  All the songs on the cd are jazzy, fun, and soulful, which would make it a perfect addition to that kiddie playlist.  It's a nice change of pace that features talented musicians with a New Orleans vibe and a funky way to round out the kid's music collection.
My favorite, byfar, is the first song of the cd, the classic, "You've Got a Friend in Me." This version of the favorite song is a brassy rendition by the rock-oriented New Orleans band, Bonerama, a group that was formed by trombonists Mark Mullins and Craig Klein, both of whom had been members of Harry Connick's band since 1990.  Who doesn't love the resonance that the trombone brings to a fun classic song (or any song for that matter?)  The rest of the cd is just as cool as the intro; so, if you're a fan of jazz and New Orleans influenced music, be sure to check this one out!  Visit the Funky Kidz site to get a taste of this fun cd!

You can purchase the cd on Amazon or on their site.

Want the review copy for yourself? I'm going to try something different!  Since I've been neglecting it, be on the look out for a post on the NKT Facebook Fan page later today to find out how to win.