I've joked before how, as kids, my brothers and I used to race to see who could get the most tan. In retrospect, it wasn't the safest "game," even with our darker complexions. It was the 80s, afterall—y'know, the decade of excess… But now, as a mama (with a very fair-skinned mestizo babe) naturally, like many other mamas, my perspective on sun safety has since changed.
According to Kidshealth.org, most kids rack up between 50% and 80% of their lifetime sun exposure before age 18.
That's a lot of fun in the sun, which is also why my mom friends and I often compare notes on the best natural sunscreens for our kids. Kiss My Face, California Baby and Jason products are often mentioned, but since being introduced to TruKid products, I can't say enough great things.
A small family-run business, TruKid was born as a result of a mother who sought to fill a void. After searching for safe, but effective skin products for her five active kids (now six), Jennifer Adams Bunkers created TruKids. TruKid uses natural ingredients and essential oils, and it's no surprise that he Environmental Working Group has given TruKid's entire line,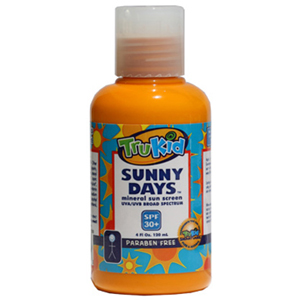 (including the products I'm about to review) the safety rating of 0-3.
Just as I started this blog, TruKid was one of the first companies to reach out to me after a mention on my Toxic Tub post. Yeah, they're that awesome. I've spoken highly of the Happy Face and Body Lotion in the past, (seriously, can't get enough of that fun apple scent and I love the smell of my clean boy) but with another long and SUNNY holiday weekend upon us, I wanted to share a review about TruKid's Sunny Days, which comes in a fabulous sunscreen lotion and super-convenient face and body stick.
The Sunny Days sunscreen lotion comes out thick and creamy, yet not greasy or oily. Because of its creamier consistency, with just 2 dollops, the boy is good to go. I've used much watery sunscreens in the past, and I feel like all I do is squirt, squirt and apply.
The facestick is definitely a favorite for us. We have it tucked away in our diaper bag, stroller pocket and even our beach/playground bag. About twice the size of a tube of chapstick, the facestick, is easy to apply with just a few swipes. It, too, isn't too thick, but light enough to apply and smooth on with one or two swipes. Because the kid thinks the facestick is actual chapstick, I tend to wipe some on my fingers to avoid unnecessary sunscreen-licking.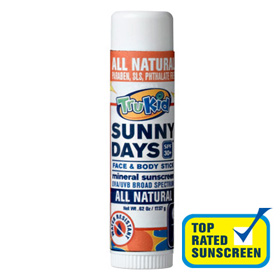 The sunscreen lotion with its smooth consistency and the facestick with its convenient packaging, both products have a light, but subtle, fruity scent make them a great alternative to other products. Sure, the spray-on sunscreens are convenient, but are they safe for the wee ones? Like with all TruKid products, my favorite aspect, hands down, is that there are no harsh chemicals or unpronounceable ingredients like in other kiddie sunscreens, making it a welcome replacements to all the other sunscreens we've used in the past. If only we had a limitless supply, we'd use these products for ourselves more often.
Have some fun in the sun planned this summer? I hope so! I've got a few Sunny Days Face and Body Sticks up for grabs. I'll pick several winners, so I'll make this one super easy. To enter:
Tell me any of the Toxic Bad Guys
That's it! If you choose to enter more than once, please comment for each entry. This giveaway will end July 10th.