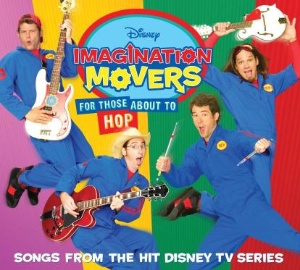 Music will always play a huge part of our lives, and so, as a fan to various genres, including kid music, I'd like to introduce NKT's very first exclusive feature!

Just in time for the release of their latest CD For Those About to Hop, the Imagination Movers sat down with me and the kid to chat. The Imagination Movers, who hail from the New Orleans area and appeal to the preschool set and their parents, have been captivating kids on their hit Disney show of the same name. The former journalist, firefighter, architect and teacher break it down to the Next Kid Thing and tell us their favorite Police album and offer some insight to parents on getting their kids interested in music.
It's true, in a former life, I once covered stories involving Kim Cattrall, fantastic new cruise ships, and even interviewed dignitaries such as the Admiral Mike Mullen, former Chief of Naval Operations and current Chairman of the Joint Chiefs of Staff. But truly, there is no journalism training that will ever prepare you for the course that you set for yourself…especially when given the opportunity to interview influential kiddie rockers such as the Imagination Movers WITH your kid curling up next to them on the couch/eating their food/ tapping their shoulders, all while you ask a set of groundbreaking questions.

As chaotic as these new adventures might sound, I wouldn't have it any other way. So, when my good friend and fellow NYC-area mom blogger, Carol of NYCityMama, invited us along for the Imagination Movers Show at Sirius Studios, we happily jumped—literally—at the chance. Besides, who wouldn't jump at the chance at seeing and meeting Rich Collins, Scott Durbin, Dave Poche, and Scott "Smitty" Smith!?

Just like their show on tv, the concert was full of energy and reggae/rock/pop-influenced tunes that had little babies, active toddlers, energetic preschoolers AND their parents hopping! The Movers were so kind and cordial in person, but most notably, they're "regular" guys, just as you'd imagine. They're absolutely like the other dads at the playground, except that they just happen to have their own hit tv show and sell a few cds here and there

True story, if it wasn't for these guys, I'd never get dinner cooked! They're the only show I feel comfortable turning on while cooking in the other room. (and come in to dance in between slicing veggies!) So, Dave, Scott, Smitty and Rich, thank you for helping me out with dinner on a day-to-day basis

and thanks for taking the time to chat!
Next Kid Thing: What is your musical background?
Smitty: I went to Julliard for 8 years. Just kidding…
Rich: We are trained in the school of Rock and Roll and FM radio. I grew up in Washington DC and played a lot of music in high school and college, and I met all these guys when I moved to New Orleans in the early 90s. We're all rock and roll guys; we love rock and hip hop.
Scott: …from De La Soul to the Police
Rich: We love it all!

NKT: Ok, since you guys love the Police, what's your favorite album?
Smitty: It's a toss up for me. It's between Zenyattà Mondatta
Rich: Ghosts is a good one
Scott: I like their reggae stuff.
Smitty: I like Ghost in the Machine because it came out when I was a teenager.

NKT: We all have a personal sound track of our lives. Can you tell me one song from your own personal soundtrack?
Rich: They make fun of me because I listen to country music. There's this song called, "I Hope you Dance," by LeeAnn Womack. It's basically a parent singing to their child, 'At any given moment, don't choose to stay against the wall. Go out live your life; take a chance.' I just thought it was so incredibly touching.
Scott: I like the line from GooGoo Dolls' Name, "Where reruns become our history…"
Rich, Dave, Scott, Smitty: Big Audio Dynamite! The Clash! Also, our version of the Kiss song, "I Wanna Rock and Roll All NIght" that's also a good one.





NKT: Speaking of Kiss, did you guys watch the latest season of AI?
Rich: Wendy, who plays Nina on the show, was trying to teach me all about American Idol.
Scott: You want to know the irony of all ironies? I don't watch television…and I'm on a tv show!
Rich: What's amazing about AI is how they produce such relevant music, especially from artists like Carrie Underwood and Kelly Clarkson. Look at Kelly, 8 years down the road, she's still a big star!
Scott: I heard Adam Lambert did a great rendition of Mad World, though.



NKT: Here's my cheesy question: If you could be any instrument, what instrument would it be? My husband I grew up playing music all through our childhood and through school. I played the piano and flute; he played brass instruments. The piano, I think, is versatile. So for me, I'd be that. Brass instruments suit my husband so well. So how about you guys?
Dave: I'd say the piano because it's so diverse.
Smitty: Plus, if you know how to play the piano, you can play everything.
Scott: For me, I would say drums and slide guitar. Drums, because it's such a primitive instrument.
Rich: I can't say piano because someone has already called it. I can't say drums either, so I'll say harmonica because no matter what you do, you get some kind of music out of it.
Smitty: I'm going to say, Didgeridoo!
Rich and Scott: oooh a bagpipe would be good!

NKT: What's your advice for parents who want to foster music education or engage interest in a musical future?
Scott: Expose them to diverse music and sounds.
Smitty: And maybe not aim them at one thing, but instead, let them try different things so they can find their instrument.
Dave: Be patient.
Rich: I think every person's job as a kid is to have fun, learn to be a kind, good person, but also to find out what you're good at and contribute to the world. I didn't find out until I was 30-something years old, but I finally found it. My kids have a long road of discovery ahead of them.
Dave: Everyone has different apptitudes, and things kick in with kids at different ages, so if you come down too hard on someone so young, it probably has the opposite effect. You can't force it.
Rich: It's just like in school, you're always teaching kids HOW to learn, but also teach them to try and to keep an open mind, and to do things.
Scott: It's the whole concept of multiple intelligence, and how kids are more analytical and tactile. Kids learn differently. The awareness factor that kids are different, maybe what you think they should be in terms of benchmarks, don't put those kind of parameters and allow them to be loved, expose them to a variety.
Rich: Those are good questions. Those are my favorite we've had!

Thank YOU, Rich, Scott, Dave and Smitty! It was great meeting you; Jack and I had a blast rocking out with you! And of course, a big thank you to NYCitymama for inviting us along on this adventure!
The Imagination Mover's latest CD For Those About to Hop is now available in stores and on iTunes.