I'm bumping this post because I just added some pretty pictures and that they'll be two winners! see below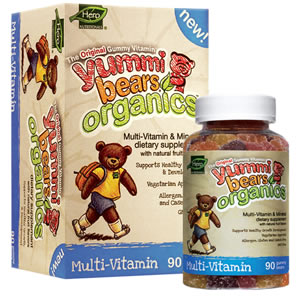 As this blog continues to grow with leaps and bounds, I wanted to take a moment to thank all of you—my awesome readers, especially my frequent commenters.  All of you rock. And guess what, I'm not the only one who notices your frequent visits and comments on The Next Kid Thing, but so are many of the companies that I've been featuring.
I'm sure many of you remember the post from a few weeks ago about the Organic Yummi Bears vitamins by Hero Nutritionals. In case you don't, let me refresh your memory:
Hero Nutritionals has recently added Yummi Bears Organics to their Yummi Bears Gummy Vitamins product line. The organic option is GMO-Free, as well as allergen, gluten and casein free.  The Yummi Bears Organics are manufactured with natural flavors and colors, too.  The organic product line is gelatin free and vegetarian approved, so parents, rest assured, there are no harmful pesticides, no insecticides, no growth hormones and no antibiotics added to the gummy vitamins.
Well, because today is Wellness Wednesday, I thought I'd announce another great giveaway!  Hero Nutritionals is generously offering a gift basket to one lucky Next Kid Thing reader.  Check out the goodies: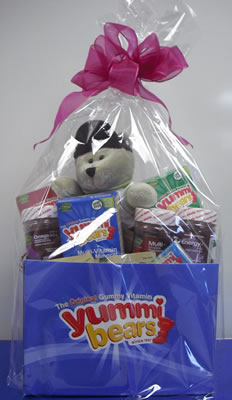 Yummi Bears – Multi Vitamin+ Minerals
Yummi Bears – Wholefood (fruits & veggies)
Yummi Bears – Omega Fish Free
Slice of Life – Multi Vitamin + Lycopene Antioxidant
Slice of Life – Energy + B12
Slice of Life – Omega 3-6-9 Fish Free
With Yummi Bears Organics samples (which aren't available until August)
Plus their mascot Oliver Bear
Seriously, what a great giveaway!
Want to win the giftbasket from Hero Nutritionals?
Visit Yummi Bears and tell me what product you'd like to try for your family.
For additional entries:
1. Tweet about this giveaway
2.  Share this post on any social networking site
3. Sign up to receive my updates via email.
4. Become a fan of NKT on Facebook
5. Tell me the name of the recently launched line of natural gummy vitamins for adults.
6.  Comment on another NKT post and get 2 more entries!
—>**New***Second winner!
Want to win 3 months worth of Yummi Bears?
Tell me your childhood vitamin memories. It can be funny, quirky, crazy…whatever! I'll pick the second winner at random from the memory entries.
Want to know mine? Uh, when I didn't like the flavor of my Flintsone Vitamin, I'd stash the uneaten vitamin behind the encyclopedias. (Sorry 'bout that, Mom!)
Please comment for each additional entry and good luck! This contest ends on June 24, 2009.
Want a chance to win a Spa Finder Giftcard or Hero Nutritionals goodies, among other things?  Be sure to sign up for their Sunshine Drawing!
And a big thanks to Hero Nutritionals!
************This contest is closed*************
<br /> The numbers generated by this widget come from RANDOM.ORG's true random number generator.<br />