As kids, my brothers and I took the good ol' Flintstone Vitamins, which, if I remember correctly, were one of the only options for vitamins for kids way back when. Since then, the kid market has flourished with so many innovative products, including those of Hero Nutritionals, the creators of the first gummy vitamins.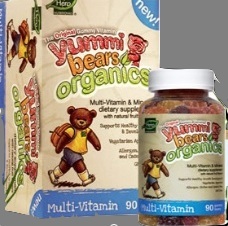 Hero Nutritionals has recently added Yummi Bears Organics to their Yummi Bears Gummy Vitamins product line. The organic option is GMO-Free, as well as allergen, gluten and casein free.  The Yummi Bears Organics are manufactured with natural flavors and colors, too.  The organic product line is gelatin free and vegetarian approved, so parents, rest assured, there are no harmful pesticides, no insecticides, no growth hormones and no antibiotics added to the gummy vitamins.

The organic product line touts five different varieties, including the Multi-Vitamin & Mineral; Immunity Shield; Brain Boost; Super Vision and Bone Builder. The vitamins are best recommended for kids over 2 years old. Hero Nutritionals, including the Yummi Bears Vitamins and the new organic products can be found at health food stores and great stores like Whole Foods.

Moms and dads, the gummy vitamins are so popular, they even offer Slice of Life Gummy Vitamins for Adults.

Don't forget to check out the $1 off coupon they have, too.