Hyland's now produces its all-natural Teething Gel in a paraben-free formula. The teething gel, which is endorsed by pediatrician, Dr. Jim Sears, helps by providing temporary relief for symptoms due to teething.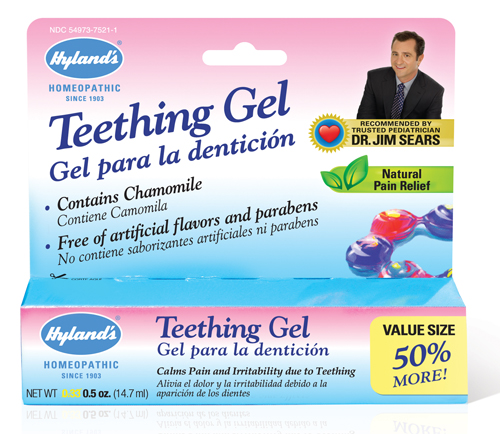 Parabens are described as a chemical used as a preservative in cosmetics, deodorants, food. It's a chemical that has been shown to mimic the hormone estrogen. Over this past year or so of teething, I've sworn by Hyland's gel and teething tablets.  It's great to hear that it's now paraben-free.
Hyland's Teething Gel doesn't include benzocaine, sugar, dyes, coloring agents, parabens or artificial flavoring, which makes it a natural alternative to other teething gels. The new tubes of Teething Gel contains 50% more gel than previously and will be sold at the same price. Hyland's Teething Gel is now available in 0.5-ounce tubes in natural food stores but will launch in chain drug and mass market stores later this summer.
Be sure to check out Hyland's site to get a $1 off coupon and to enter the Before and Happy After Hyland's video contest.