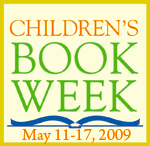 Children's Book Week is well underway this week, which got me thinking about all of our current favorite books, as well as my own classic favorites.  The Elmo books, the Sandra Boynton books and the Barefoot books, they're all great.  But as a book lover, who's now a mom, I hope my love for books rubs off.  I try to foster good reading habits with frequent visits to the library, reading as often as I can and reading WITH him daily.  I love being surrounded by newspapers, magazines and books–lots of books.  Judging by the way the kid scales the couch to get to our bookcase to "read" my books, I think we're on to something.

One of my all time favorite children's books is, hands down, Where the Wild Things Are by Maurice Sendak. I love that book and can't WAIT to relive the story with the kid.   Max's adventures illuminated my imagination as a kid, and it's sure to illuminate many more kids' lives with the movie version's October release.  I love how the book is described as, one of those truly rare books that can be enjoyed equally by a child and a grown-up.  As exciting as it is that Where the Wild Things was made into a movie, (by one of my favorite directors no less –Spike Jonze who's done everything from Beastie Boys videos to award winning movies like Being John Malkovich) the book version will always be my favorite.

But, check out the trailer!  It looks pretty good!


So, favorite children's books?  I want to hear 'em.  What excites you? What are yours and what are the kids' favorites?