With all the news involving BPA lately, this company is one that shows the direction that the baby gear market is heading.

In light of the growth of environmental awareness and social consciousness, especially among new parents, many of us seek safer and much more sustainable products. Silikids, founded by two moms who, in a search for alternatives, decided to turn to silicone, one of the safest and most durable materials on earth, into a product line for children.
After recognizing the lack of hygienic, practical and non-toxic products Giuliana Schwab and Stacey Feeley founded Silikids. They have created a unique line of mom-inspired products, which are germ, mold and toxin-free, hypoallergenic and made entirely out of silicone.
Silicone is a non-porous material made from sand, which is unique for its hygienic, safe, durable and green benefits. Silicone is more frequently being used in children's products, and is already commonly used for baby bottle nipples, pacifiers, teethers and baby spoons.

The Silikids collection currently includes:
·         Siliskins-silicone sleeves for 4- and 8-oz. bottles (bottles included)
·         Silibibs-soft and easy to clean bibs made entirely of silicone
·         Silipads-silicone kneepads for crawlers and toddlers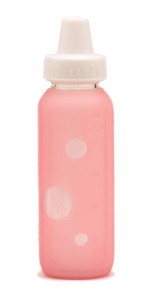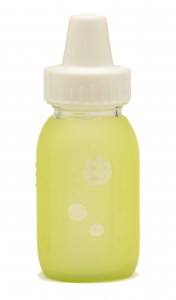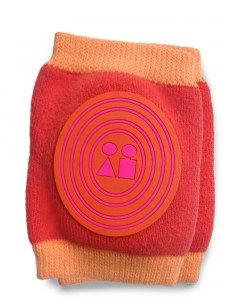 I had the chance to check out these products, and I was so impressed. The quality and durability are absolutely what I look for in the products that I normally buy.  The functionality and eco-friendliness are clear cut selling points, too.
With many families shying away from questionable plastic baby bottles, glass bottles are once again a popular alternative.
The Siliskin sleeves for glass baby bottles are a protective sheath that helps prevent the bottle from breaking. In addition to being functional, they're fun and colorful, too!

The Silibibs are easy to clean bibs that are a great alternative to the flimsy plastic bibs out on the market. In addition to catching crumbs, many of those plastic bibs catch their fair share of germs if they're not cleaned properly! These silicone bibs are a safe bet.

Even though my kid is beyond the crawling phase, I appreciate the innovation of the Silipad silicone kneepads. Bumps and bruises are part of our daily routine, but we could've definitely used these in the crawling days to cushion little knees from those hard surfaces.

All Silikids products are priced at less than $25.00 and are dishwasher safe, washer/dryer friendly and can be boiled for sterilization. These products which are fairly new to the market can be found at various stores and online retailers.

I have an orange pair of the Silipads and two 4 oz. sized Siliskin sleeves up for grabs.

Want to win it?

Visit the Silikids site and leave a comment with the products you'd like to try.

For additional entries: blog, tweet, stumble or share the news of the Next Kid Thing's official launch on any social media site.   Please leave a comment for each additional entries.
*****This contest is now closed******