The children's classic book and well loved character, Petter Rabbit now has a line of organic baby products.  The Peter Rabbit branded baby products from Econatura includes baby shampoo and wash, baby conditioner, baby body oil, baby lotion and Intense Therapy Cream for Baby. The products have been developed from plant-based formulations, are hypo-allergenic and contain natural antioxidants, making it a great option for children and even sensitive adults.  Check out the ingredients here.
The Peter Rabbit Econatura line, which was awarded 2008's "Best Baby Line" from Natural Solutions magazine, are available exclusively at Whole Foods.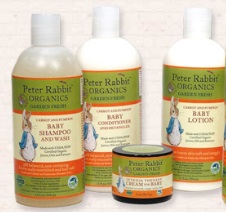 Goodies: Visit Econatura's site to get a coupon for $2 off of Peter Rabbit organics.