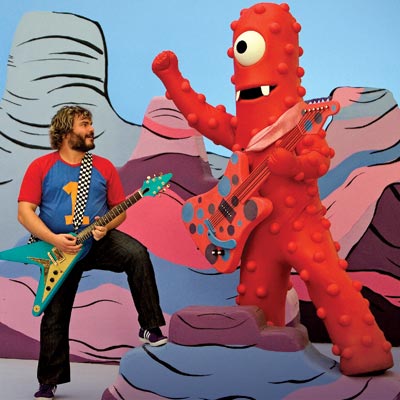 Today's the day we've been waiting for…at least in our house!  Funny guy Jack Black visits DJ Lance, Muno, Brobee, Muno, Plex and Foofa in Gabbaland in today's new episode of  Yo Gabba Gabba.  The all-new episode called "New Friends", premieres on Nick Jr. today, April 3rd at 1:30pm!

Seriously, what other kiddie shows teach you how to beatbox and tout guitar solos AND have awesome guest stars like Mark Mothersbaugh, Biz Markie, Mates of State, The Shins, The Aquabats and the Ting Tings?

In case you can't get over YGG's obscure-looking monsters, check it out:  Yo Gabba Gabba has a cult-like following because of its eccleticism, music choices and especially its appeal to cool parents and their kids.  Hmmmm…post-punk musicians or the Wiggles?  It's definitely a show that we've grown to love!
Break it down!

Goodies:
Yobloggablogga– Yo Gabba Gabba Blog
Yo Gabba Gabba friends, crafts and more!
Yo Gabba Gabba video