The Tribeca Film Festival is set to kickoff this weekend in NYC, with all kinds of kid-friendly activities to boot.
But one highlight caught my attention: Tribeca Film Festival will screen the original Teenage Mutant Ninja Turtles film to celebrate…wait for it….25 years of Turtle Power.



In addition to tonight's screening, the Turtles' year long celebration began when they flipped the switch this morning atop the Empire State Building. The Empire State Building's lights will go green in honor of Leonardo, Donatello, Raphael and Michelangelo.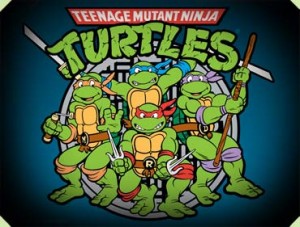 Teenage Mutant Ninja Turtles (1990), directed by Steve Barron, was selected as the Drive-in movie feature at the Tribeca Film Festival. The outdoor screening is scheduled for tonight at 8:15 PM at the World Financial Center Plaza (200 Vesey Street). Open to the public, pre-activities starting at 5:00 PM include a pizza party, face-painting, photo opportunities with the Turtles, dancing, and martial arts demonstrations with the TMNT and The American Taekwondo Association. And of course, The Turtles' pal, April O'Neil, will join in the fun.

25 years, really? I officially feel old.