Perhaps one of my favorite toy concepts I've seen in a long time is Global Green Pals.  I came across the Global Green Pals while at the Go Green Expo and was immediately intrigued.  What first caught my eye about these dolls was the fact that they're multicultural and very unique.  Growing up with not many multicultural dolls, it's nice to see that toy companies are mirroring the diversity of the kids that love their toys.

What's great about the Global Green Pals is that each one has a story.  All unique, their stories involve environmentalism and a fervor to save the Earth.  Though not available until this summer, check out the Global Green Pals' site and get to know Offset Chet, Clean Air Kate, Pani Rani, Pink Coral Laurel and Recycle Kyle!  Just as the dolls are poised to Save the Earth, with every Pal purchased, a portion of the sales will go to 1% for the Planet.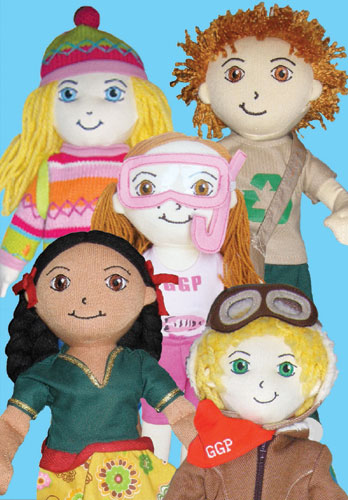 I love the concept behind these dolls and can see them becoming a huge hit!  It's toys like Global Green Pals that epitomize The Next Kid Thing!
I'll be sure to share more information about them once they're available!