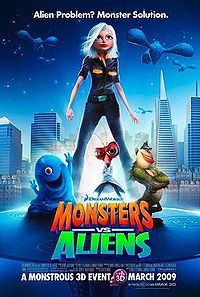 DreamWorks Animation's 3-D animated movie, Monsters vs. Aliens opened in first place taking in $58.2m reports are saying. With a marketing campaign this huge, in an economy this bad, it's great to hear people went out to see a fun family flick. In case you missed it, Monsters vs. Aliens debuted its 3-D trailer before this year's Superbowl. Thanks to the beauty of DVR (and not having enough 3-D glasses) we watched that trailer multiple times and enjoyed it!

The consensus so far seems to be that it's an ok movie that was somewhat funny, and entertaining for both kids and parents. Some reviews are saying the movie was great because of the 3-D technology, others simply said that it was lukewarm at best.

Interesting detail about Monsters vs. Aliens:  this is the first computer animated movie produced in 3-D using InTru3D technology, instead of converting the film into 3-D after it is finished. Some of my favorite actors' voices are featured in the film: Reese Witherspoon, Seth Rogen, Hugh Laurie, Will Arnett, Rainn Wilson, Kiefer Sutherland, and Stephen Colbert.

There are various reviews floating around, but the best one I read so far was over at Geekdad:
Monster vs Aliens includes a ton of references to geek culture, 50s monster movies, science fiction and current events. Most of these references were left hanging, either with silence, or a dark and/or awkward situation. I don't know if the writers failed to develop this well enough, or if parts got cut in production, but the result was an average fun movie that could have been awesome.

Overall Monsters vs Aliens was a funny movie, but it had some strange and often awkward moments. Imprisonment, accidental death and wanton destruction aren't usually funny. This movie didn't quite manage to make them so.
Did any of you see the movie? Did anyone see it in 3-D? If you did see it, I'd love to hear your thoughts.